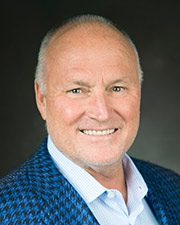 Chair and Professor
Edward T. Smith Endowed Chair
Medical Director, Memorial Hermann Rockets Sports Medicine Institute
Contact
713.486.7500
713.512.2234 fax

Biography
Dr. Walt Lowe is Chair and Professor of the Department of Orthopedic Surgery at McGovern Medical School at UTHealth Houston. He also serves as the Chief of Orthopedic Surgery at Memorial Hermann at the Texas Medical Center and LBJ General Hospital.  He is also the Medical Director of the Memorial Hermann Rockets Sports Medicine Institute.
Certified by the American Board of Orthopedic Surgery, Dr. Lowe specializes in Sports Medicine with an emphasis on diagnosing and treating a wide range of knee, shoulder, and elbow injuries and disorders. Dr. Lowe served as the Head Team Physician for the NFL Houston Texans from 2001 – 2022, he is currently the Head Team Physician for the NCAA University of Houston Cougars, the NBA Houston Rockets, as well as the North Shore Mustangs, B.F. Terry Rangers and other local area high schools.
Dr. Lowe received a B.A. from Colorado State University in Fort Collins, Colorado. He received his M.D. from the University of Texas Medical School in Houston, Texas. After completing his internship at John Peter Smith Hospital and a residency at Tarrant County Affiliated Hospitals in Fort Worth, Texas, Dr. Lowe completed a fellowship at the renowned Kerlan-Jobe Orthopedic Clinic in Los Angeles, California. Dr. Lowe spent a year studying under the Famous Sports Medicine Baseball surgeon Dr. Frank Jobe.
Dr. Lowe is a member of the American Academy of Orthopedic Surgeons, fellow American Orthopedic Society for Sports Medicine, fellow American College of Sports Medicine, NFL Team Physicians Society, ACL Study Group.
Education
Undergraduate Degree

Colorado State University, Ft. Collins, Colorado

Medical Degree

The University of Texas Medical School, Houston, Texas

Internship

John Peter Smith Hospital, Ft. Worth, Texas

Residency

Orthopaedic Surgery Residency, Tarrant County Affiliated Hospitals, Ft. Worth, Texas

Fellowship

Sports Medicine Fellowship, Kerlan Jobe Orthopaedic Sports Medicine, Inglewood, California
Areas of Interest
Clinical Interests
Knee
Anterior Cruciate Ligament (ACL) Reconstruction / Revision Reconstruction
Posterior Cruciate Ligament (PCL) Reconstruction / Revision Reconstruction
Medial Collateral Ligament (MCL) Repair / Reconstruction
Lateral Collateral Ligament (LCL) Repair / Reconstruction including Posterior Lateral Corner Repair / Reconstruction
Multi-Ligament Repair / Reconstructions
Osteochondral Autograft / Allograft Transplantation (OATS)
Osteochondral Microfracture
Carticel Reimplantations (ACI) (Autologous Chondrocyte Implantation)
Meniscal Injury (Meniscectomies and Meniscal Repairs)
Patellofemoral Disorders
Meniscal (Allograft) Transplants
Shoulder
SLAP Lesion Repair
Bankart Lesions Repair
Rotator Cuff Repair
Bicep Tendon Disorders (Biceps Tenodesis)
AC Joint Injuries / Reconstructions
Dislocations
Anterior and Posterior Instability Surgical Corrections
Elbow
Ulnar Collateral Ligament (UCL) Repair / Reconstruction (Tommy John Procedure)
Ulnar Nerve Transposition
Medial and Lateral Epicondylitis (Tennis Elbow)
"Little League" Elbow
Publications
Additional Information
Professional Activities
1993–2003, 2005–Present, Official Head Team Physician and Preferred Orthopedic Surgeon for the NBA
1993–Present, Official Head Team Physician and Preferred Orthopedic Surgeon for the NCAA University of Houston Cougars
1995–1997, Team Physician for Houston Oilers
1997–2003, Team Physician for Houston Comets
2000–Present, Consultant to NASA
2001– 2022, Team Physician for Houston Texans
Certifications
American Board of Orthopedic Surgery, July 1990, Re-Certified 2002
Subspecialty in Sports Medicine, November 2007