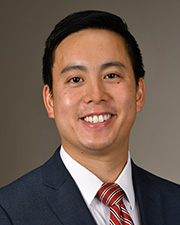 Assistant Professor, Department of Orthopedic Surgery
Biography
Dr. Khang H. Dang is an Assistant Professor in the Department of Orthopedic Surgery at McGovern Medical School at The University of Texas Health Science Center at Houston (UTHealth).
Dr. Dang is a fellowship-trained shoulder and elbow surgeon who treats general and complex orthopaedic conditions, trauma, and sports-related injuries. With expertise in non-operative management, arthroscopy, arthroplasty and open procedures, he focuses on exceptional patient care and getting his patients back to the things they love.
Dr. Dang joins UT Ortho after completing his Shoulder and Elbow Surgery Fellowship at Massachusetts General Hospital and Harvard Medical School. He graduated with honors from Rhodes College and medical school at the University of Mississippi Medical Center as a Research Scholar. He completed his Orthopedic Surgery Residency at the University of Texas Health San Antonio where he served as Administrative Chief Resident and was selected into the Emerging Leaders Program at the American Orthopedic Association.
Dr. Dang is a member of several professional organizations, including the American Academy of Orthopedic Surgeons, the American Shoulder and Elbow Society, and the Codman Shoulder Society. Additionally, his clinical research has been published in several peer-reviewed journals and presented at both national and international meetings. He serves as a reviewer for the Journal of Shoulder and Elbow Surgery.
In his spare time, Dr. Dang enjoys traveling, running, and spending time with his family.
Education
Undergraduate Degree

Bachelor of Science, Biology, Cum Laude, Rhodes College, Memphis, Tennessee

Medical Degree

Doctorate of Medicine, Medical Student Research Scholar, University of Mississippi Medical Center, Jackson, Mississippi

Residency

Orthopaedic Surgery Residency, University of Texas Health San Antonio, San Antonio, Texas

Fellowship

Shoulder & Elbow Fellowship, Harvard Medical School, Massachusetts General Hospital, Boston, Massachusetts
Areas of Interest
Clinical Interests
Shoulder and Elbow Surgery
Shoulder
Shoulder arthroscopy
Rotator cuff repair
Shoulder instability
Adhesive capsulitis
Labral tears
Shoulder stiffness
Total and reverse shoulder arthroplasty (replacement)
Tendon transfer
AC joint separation
Proximal humerus fractures
Care of the throwing athlete
Elbow
Elbow arthroscopy
Elbow stiffness
Elbow instability
Tommy John Surgery (Ulnar Collateral Ligament Reconstruction)
Sports injuries
Tennis/golfer's elbow
Biceps rupture
Elbow fractures
Elbow arthroplasty (replacement)
Ulnar nerve compression (Cubital Tunnel Syndrome)
Publications
Publication Information
1. Elhassan BT, Huynh TM, Dang KH. The "Parachute" Technique for Combined Supscapularis and Posterosuperior
Rotator Cuff Tears. Obere Extremitat. 2021. doi:
2. DeLeon JC, Dang KH, Tye CB, Breinholt CS, Karia RA. Safety and efficacy of the META-TAN in Femoral Shaft
Fractures: a retrospective case series of 33 patients. Patient Saf Surg. 2020. doi: 10.1186/s13037-020-00269-z
3. Dang KH, Lee A, Prabhakar G, Julian BQ, Brady C, Dutta AK. The Split Capsule Technique for Chronic Anterior
Shoulder Dislocation: A Novel Surgical Technique and Case Series. Techniques in Shoulder & Elbow Surgery. 2020.
doi: 10.1097/BTE.0000000000000206
4. Dev A, Prabhakar G, Dutta A. Dang K. The Unipolar Bipolar Clavicle Dislocation: A Novel Reconstruction Technique
and Case Report. Case Rep Orthop. 2020. doi: 10.1155/2020/8888818
5. Dang KH, Jensen K, Dutta AK. Early Outcomes of Magnetic Intramedullary Compression Nailing for Humeral
Fractures. Eur J Orthop Surg Traumatol. 2020. doi: 10.1007/s00590-020-02735-x.
6. Egbert RC, Bouck TT, Gupte NN, Pena MM, Dang KH, Ornell SS, Zelle BA. Hypoalbuminemia and Obesity in
Orthopaedic Trauma Patients: Body Mass Index a Significant Predictor of Surgical Site Complications. Sci Rep.
2020. doi: 10.1038/s41598-020-58987-4.
7. Zelle BA, Morton-Gonzaba NA, Adcock CF, Lacci JV, Dang KH, Seifi A. Healthcare Disparities in Orthopaedic
Trauma: Socio-demographic Factors Influence Management of Calcaneus Fracture. J Orthop Surg Res. 2019. doi:
10.1186/s13018-019-1402-8.
8. Cabot JH, Dang KH, Dutta AK. Free-Floating Scapular Spine: A Rare Shoulder Injury. Case Rep Orthop. 2019. doi:
10.1155/2019/1839375.
9. Ornell S, Dang KH, Bois AJ, Dutta AK. Fungal Infection After Total Elbow Arthroplasty. Case Rep Orthop. 2019. doi:
10.1155/2019/7927914.
10. Dang KH, Ornell S, Huynh RA, Deleon, JC, Pesek, Karia, RA. Early Clinical and Radiographic Outcomes of a Mini-
Fragment, Low Profile Plating System in Tibial Plafond Fractures. Injury. 2019. doi: 10.1016/j.injury.2019.07.023.
11. Dang KH, Nguyen VT, Arain O, Pruett WA, Didlake R. Strategies for the Physician Workforce Shortage in
Mississippi. J Miss State Med Assoc. 2019.
12. Zelle BA, Dang KH, Ornell S. High-Energy Tibia Pilon Fractures: an Instructional Review. Int Ortho. 2019. doi:
10.1007/s00264-019-04344-8.
13. Dang KH, Ornell S, Reyes G, Hussey M, Dutta, AK. A New Risk to the Axillary Nerve During Percutaneous Proximal
Humeral Plate Fixation Utilizing the Synthes PHILOS® Aiming System. J Shoulder Elbow Surg. 2019. doi:
10.1016/j.jse.2019.01.019.
14. Dang KH, Dutta, AK. Osteomyelitis: A Rare Complication after Subpectoral Biceps Tenodesis. Orthop J Sports Med.
2019. doi: 10.1177/2325967118822732.
15. Zelle BA, Webb AJ, Matson C, Morwood M, Dang KH, Ornell S, Gostigian G, Ramirez C. Safety and efficacy of a
two-screw cephalomedullary nail for intertrochanteric femur fracture fixation: a retrospective case series in 264
patients. Patient Saf Surg. 2018. doi: 10.1186/s13037-018-0177-x.
16. Dang KH, Armstrong CA, Karia RA, Zelle, BA. Outcomes of Distal Femur Fractures Treated with the Synthes 4.5
mm VA-LCP Curved Condylar Plate. Int Ortho. 2018. doi: 10.1007/s00264-018-4177-3.