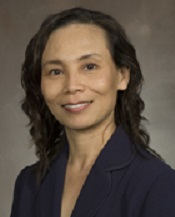 Associate Professor, Department of Pathology and Laboratory Medicine
Education
M.D.

Central South University, , Central South University, Xiangya Medical School (previously known as Hunan Medical University), Changsha, Hunan, P.R.China

Ph.D.

Division of Biological Science of the University of Texas at Austin

Residency

Combined Anatomic and Clinical pathology, UTMB at Galveston

Fellowship

Surgical Pathology, The Methodist Hospital, Houston, TX

Fellowship

Cardiovascular Fellow, University of Texas, Medical school at Houston, Dept of Pathology
Areas of Interests
Clinical Interests
General surgical pathology, special interests in GI and liver pathology, GU pathology and renal pathology; cardiovascular pathology
Publications
Publication Information
Book Chapters
1. Soon-Hee Jung, Bihong Zhao, Li Mao, MD,Jae Y. Ro, MD, PhD. Chapter 26: Molecular pathology of squamous cell carcinoma and its precursors. In: Molecular Pathology of Lung Diseases. 2008.   Eds: Zander, Popper, Jagirdar, Haque, Cagle, Barrios.
2. Kline, K., Yu, W., Zhao, B., K. Israel, Charpentier, A., M. Simmons-Menchaca and Sanders, B.G.  1995. Vitamin E succinate: Mechanisms of Action as Tumor Cell Growth Inhibitor.  In: Nutrients in Cancer Prevention and Treatment.
Journals
1. Stewart B, Manglik N, Zhao B, Buryanek J, Khalil K, Aronson JF, Buja LM. Aortic intimal sarcoma: report of two cases with immunohistochemical analysis for pathogenesis. Cardiovasc Pathol. 2013 Sep-Oct;22(5):351-6.
2. David Richard, Bihong Zhao, Robert Saggi. Spontaneous Rupture of Giant Liver hemangioma. Hepatology. August 2011
3. Sadhna Dhingra, Alberto Ayala, Hong Chai, Vanessa Moreno and Bihong Zhao. Renal Myopericytoma: A case report and review of literature. Archives of Pathology & Laboratory Medicine. Accepted. July, 2011
4. Bihong Zhao, Steven S. Chua, Mark M. Burcin, Susan D. Reynoids, Barry R. Stripp, Robert A. Edwards, Milton J. Finegold, Sophia Y. Tsai  and Franco J. DeMayo.  Phenotypic consequences of lung-specific inducible expression of FGF-3.   Proceedings of the National Academy of Sciences. U.S.A 2001 May, (8):5898-5903
Certifications
American Board of Pathology certified in combined Anatomic Pathology and Clinical Pathology on 11/18/2005.