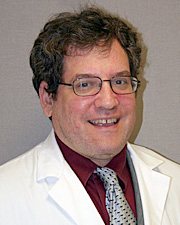 Michael Covinsky, MD, PhD
Staff Physician, Department of Pathology & Laboratory Medicine, Lyndon B. Johnson Hospital
Education
B.S.

Chemistry, University of Illinois Urbana-Champaign

Ph.D.

Physical Chemistry, University of California Berkeley

M.D.

Baylor College of Medicine

Residency

Anatomic and Clinical Pathology, Washington University in St. Louis

Fellowship

Pediatric Pathology, Washington University in St. Louis
Areas of Interests
Clinical Interests
General and Pediatric Pathology
---
Research Interests
General and Pediatric Pathology
Publications
Publication Information
Ikoma N, Fischer UM, Covinsky M, Quesada AE, Gomez R, McCray C, Warner NB, Ko TC. 2014.  Ileal perforation in a young female with churg-strauss syndrome. Am Surg 80(1):94-6.
Huang R, Covinsky M, Zhang S. 2013. Bilateral Ovarian Capillary Hemangioma with Stromal Luteinization and Hyperandrogenism.  Annals of Clinical and Laboratory Science  43(4):457-9.
S. Dhamne, RE Brown, M. Covinsky, C. Dhamne, and N. Tatevian. 2013. Clear Cell Sarcoma of the Kidney: Morphoproteomic Analysis Reveals Genomic Correlates and Therapeutic Options.  Pediatric and Developmental Pathology 16(1):20-27.
S Alexandrescu, N Tatevian, BA Czerniak, M Covinsky, N Burns, Robert E Brown. 2012. Morphoproteomics provides support for TGF-β pathway signaling in the osteoclastogenesis and immune  dysregulation of osteolytic Langerhans cell histiocytosis. Int J Clin Exp Pathol 5(6):503-511.
Malhotra M, Bhattacharjee M, Covinsky M, Papasozomenos S, Wang M. 2011. Vein of Galen Aneurysmal Malformations Associated with High Output Cardiac Failure: Report of Three Autopsy Cases. Journal of Pediatric Neurology  9:2 (227-232).
Xiao J., Krueger GR, Buja LM and Covinsky M. 2009. The impact of declining clinical autopsy: Need for a Revised Healthcare Policy.  American Journal of the Medical Sciences 337(1):41-6.
Dhareshwar J., Estrera AL., Covinsky MH and Safi HJ. 2006. Inflammatory aneurysm of the ascending aorta. [Case Reports. Journal Article] European Journal of Cardio-Thoracic Surgery 30(5):806-7.
Michael Covinsky, Steven Gong, Veena Rajaram, Arie Perry, and John Pfeifer Human. 2005. EWS-ATF1 Fusion Transcripts in Gastrointestinal tumors Traditionally Diagnosed as Malignant Melanoma. Pathology Human Pathology 36:74-81.