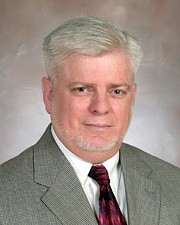 Distinguished Teaching Professor & Vice Chair for Research, Pathology & Laboratory Medicine
Education
BA

Psychobiology, UCLA, 1973

MS

Biology/Biochemistry, UC Santa Barbara, 1975

PhD

Microbiology/Immunology, UCLA, 1980

Postdoctoral

UC San Diego, 1980-1982
Areas of Interest
Research Interests
Bacterial Pathogenesis and Host-Pathogen Interactions
Research Information
Science is revealing the truth about nature.
Bacterial Pathogenesis and Host-Pathogen Interactions
Our research is driven by an interest in bacterial pathogenesis and its relationship with microbial physiology, structure, and genetics. Treponema pallidum (the causative agent of syphilis) and Borrelia burgdorferi (which causes Lyme disease) are spirochetes that cause chronic, multisystemic diseases.  These organisms can invade almost any tissue and survive and cause disease in the host for years to decades, and thus serve as important examples of persistent, invasive pathogens.
Long-term in vitro culture of Treponema pallidum
The culture of T. pallidum in vitro has been a research goal ever since its identification as the cause of syphilis in 1905. Our group recently described a system that supports the long-term multiplication of T. pallidum in a tissue culture system (Edmondson et al., 2018). We have now maintained exponential growth of T. pallidum for over three years and have embarked on an NIH-funded project to 1) optimize the tissue culture system, 2) delineate nutritional requirements and growth characteristics, with the goal of developing an axenic (cell-free) culture system, and 3) investigate the possibility of mutational analysis of T. pallidum. Other potential applications include the direct culture of T. pallidum from patient specimens and the use of this system for antimicrobial susceptibility testing.
Molecular genetics of Lyme disease pathogenesis
Molecular genetic techniques such as transposon mutagenesis (including signature tagged mutagenesis), PCR, Luminex®-based high-throughput screening procedures, and reverse genomics are being utilized in combination with infectivity studies to identify B. burgdorferi genes and gene products required for infectivity in a mouse model. Using such approaches, our group identified and characterized the vls antigenic variation system of B. burgdorferi, an elaborate mechanism similar to the Variable Major Protein system of relapsing fever borreliae. We have also utilized a global approach to identify additional genes encoding virulence determinants important in the pathogenesis of Lyme disease through the screening of a transposon mutant library using high-throughput approaches (including Tn-seq).
Ultrastructure of pathogenic spirochetes
Cryo-electron tomography, a relatively new electron microscopy technique that creates 3D images of bacteria, is being utilized in collaborative studies with Dr. Jun Liu at Yale University to elucidate the architecture of the flagellar motor and other structural elements of these organisms.
Publications
Publication Information
Selected Publications (Click here for current PubMed listings)
Edmondson DG, Norris SJ. 2021. In vitro cultivation of the syphilis spirochete, Treponema pallidum. Current Protocols Journal. 2021 Feb;1(2):e44. DOI: 10.1002/cpz1.44. PMCID: PMC7986111
Edmondson DG, DeLay BD, Kowis LE, Norris SJ. 2021. Parameters affecting continuous in vitro culture of Treponema pallidum strains. mBio. doi: 10.1128/mBio.03536-20. PMID: 32895555
Coburn, J, Garcia B, Hu LT, Jewett MW, Kraiczy P, Norris, SJ, Skare J.  2020.  Lyme disease pathogenesis. Curr Issues Mol Biol Dec 23;42:473-518. doi: 10.21775/cimb.042.473.  PMCID: PMC8046170
Zhang Y, Chen T, Raghunandanan S, Xiang X, Yang J, Liu Q, Edmondson DG, Norris SJ, Yang XF, Lou Y. 2020. YebC regulates variable surface antigen VlsE expression and is required for host immune evasion in Borrelia burgdorferi. PLoS Pathog 16(10):e1008953. doi: 10.1371/journal.ppat.1008953. PMCID: PMC7584230
Hahn H, Anderson P, Lu Z, Danner R, Zhou Z, Hyun N, Gao L, Lin T, Norris SJ, Coburn J. 2020. BBB07 contributes to, but is not essential for, Borrelia burgdorferi infection in mice. Microbiology (Reading). 2020 Oct;166(10):988-994. doi: 10.1099/mic.0.000972. PMCID: PMC7660918
Chang Y, Zhang K, Carroll BL, Zhao X, Charon NW, Norris SJ, Motaleb MA, Li C, Liu J. 2020. Molecular mechanism for rotational switching of the bacterial flagellar motor. Nature Struct Molec Biol, Nat Struct Mol Biol. 2020 Nov;27(11):1041-1047. doi: 10.1038/s41594-020-0497-2. PMID: 32718967
Edmondson DG, Wormser GP, Norris SJ. 2020. In vitro susceptibility of Treponema pallidum subsp. pallidum to doxycycline. Antimicrob Agents Chemother 64:e00979-20. PMID: 32718967
Medina-Pérez DN, Wager B, Troy E, Gao L, Norris SJ, Lin T, Hu L, Hyde JA, Lybecker M, Skare JT. 2020. The intergenic small non-coding RNA ittA is required for optimal infectivity and tissue tropism in Borrelia burgdorferi. PLoS Pathog. 16:e1008423. PMC: 7224557
Chang Y, Moon KH, Zhao X, Norris SJ, Motaleb MA, Liu J. 2019. Structural insights into flagellar stator-rotor interactions. Elife 8:e48979. doi: 10.7554/eLife.48979. PMID: 31313986
Phelan JP, Kern A, Ramsey ME, Lundt ME, Sharma B, Lin T, Gao L, Norris SJ, Hyde JA, Skare JT, Hu LT. 2019. Genome-wide screen identifies novel genes required for Borrelia burgdorferi survival in its Ixodes tick vector. PLoS Pathog. 15:e1007644. PMID: 31086414
Qin Z, Tu J, Lin T, Norris SJ, Li C, Motaleb MA, Liu J. 2018. Cryo-electron tomography of periplasmic flagella in Borrelia burgdorferi reveals a distinct cytoplasmic ATPase complex. PLoS Biol 16:e3000050. PMC: 6248999
Norris SJ. 2019. Hiding in plain sight: colonic spirochetosis in humans. (Commentary) J Bacteriol. 201: e00465-19. doi: 10.1128/JB.00465-19. PMC6779462
Norris SJ. 2018. Catching up with Lyme disease antigenic variation computationally. (Commentary) Trends Microbiol. 26(8):644-645. doi: 10.1016/j.tim.2018.05.017. PMID: 29903419. Link
Edmondson, DG, Hu B, Norris SJ. 2018. Long-term in vitro culture of the syphilis spirochete, Treponema pallidum. MBio. 9(3). pii: e01153-18. doi: 10.1128/mBio.01153-18. PMID: 29946052 Link
Arora N, J Verena, GJ Schuenemann, A Peltzer, A Seitz, A Herbig, M Strouhal, L Grillová, L Sánchez-Busó, D Kühnert, KI. Bos, N Juricevic, L R Davis, L Paštěková, S Bruisten, P Komericki, P French, P Grant, MA Pando, LG Vaulet, M R Fermepin, A Martinez, A Centurion Lara, L Giacani, SJ Norris, D Smâjs, PP Bosshard, F González-Candelas, K Nieselt, J Krause and HC Bagheri. 2016. Origin of modern syphilis and emergence of a pandemic cluster. Nature Microbiology 5;2:16245. doi: 10.1038/nmicrobiol.2016.245. PMID: 27918528
Edmondson DG, Prabhakaran S, Norris SJ, Ullmann AJ, Piesman J, Dolan M, Probst C, Radzimski C, Stöcker W, Komorowski L. Enhanced protective immunogenicity of homodimeric Borrelia burgdorferi Outer Surface Protein C.  Clin Vaccine Immunol. 2016 Oct 12. pii: CVI.00306-16. PMCID: PMC5216437
Bourret TJ, Lawrence KA, Shaw JA, Lin T, Norris SJ, Gherardini FC.  2016.  The nucleotide excision repair pathway protects Borrelia burgdorferi from nitrosative stress in Ixodes scapularis ticks.  Front Microbiol. 2016 Sep 7;7:1397. doi: 10.3389/fmicb.2016.01397.  PMCID: PMC5013056
Troy EB, Lin T, Gao L, Lazinski DW, Lundt M, Camilli A, Norris SJ, Hu LT. Global Tn-seq analysis of carbohydrate utilization and vertebrate infectivity of Borrelia burgdorferi. Mol Microbiol. 2016 Sep;101(6):1003-23. doi: 10.1111/mmi.13437. PMCID: PMC5028225
Chu, C-Y, PE Stewart, A Bestor, B Hanson, T Lin, L Gao, SJ Norris, and PA Rosa. 2016. Function of the Borrelia burgdorferi FtsH homolog is essential for viability both in vitro and in vivo, and independent of HflK/C. mBio 7(2). pii: e00404-16. doi: 10.1128/mBio.00404-16. PMC4850261
Khajanchi, BK, E Odeh, L Gao, M Jacobs, MT Philipp, T Lin, and SJ Norris. 2016. Phosphoenolpyruvate phosphotransferase system components modulate gene transcription and virulence of Borrelia burgdorferi.  Infect Immun 84:754 –764. doi:10.1128/IAI.00917-15. PMC4771366
Lin, T., L. Gao, X. Zhao, J. Liu, and S. J. Norris.  2015.  Mutations in the Borrelia burgdorferi flagellar type III secretion system genes fliH and fliI profoundly affect spirochete flagellar assembly, morphology, motility, structure and cell division.  mBio 6(3):e00579-15. doi:10.1128/mBio.00579-15, PMC4436065.
Čejková, D. M. Strouhal, S.J. Norris, G. M. Weinstock and D.Šmajs.  2015.  A retrospective study on genetic heterogeneity within Treponema Strains: Subpopulations are genetically distinct in a limited number of positions.  PLoS Negl Trop Dis. 2015 Oct 5;9(10):e0004110. doi: 10.1371/journal.pntd.0004110.  PMID: 26436423.
Darkoh, C., H. L. DuPont, S. J. Norris, and H. B. Kaplan.  2015.  Toxin synthesis by Clostridium difficile is stringently regulated through a quorum signaling mechanism.  mBio 6(2):e02569-14. doi:10.1128/mBio.02569-14, PMC4453554.
Norris SJ. 2014. vls antigenic variation systems of Lyme disease Borrelia: eluding host immunity through both random, segmental gene conversion and framework heterogeneity. Microbiol Spectrum 2(6):MDNA3-0038-2014. doi:10.1128/microbiolspec. MDNA3-0038-2014, PMC4480602.

Lin T, Troy EB, Hu LT, Gao L, Norris SJ

.

2014. Transposon mutagenesis as an approach to improved understanding of

Borrelia

pathogenesis and biology.

Front Cell Infect Microbiol 4:

63. 

Abstract
Zhao X, Norris SJ, Liu J.  2014.  Molecular architecture of the bacterial flagellar motor in cells. Biochemistry. 53:4323-4333.  PMID: 24697492  Abstract
Zhao X, Zhang K, Boquoi T, Hu B, Motaleb MA, Miller KA, James ME, Charon NW, Manson MD, Norris SJ, Li C, Liu J. 2013. Cryoelectron tomography reveals the sequential assembly of bacterial flagella in Borrelia burgdorferi. Proc Natl Acad Sci (USA) 110: 14390-14395. Abstract
Chaconas G, Norris SJ. 2013. Peaceful coexistence amongst Borrelia plasmids: Getting by with a little help from their friends? Plasmid 70: 161-167.  Abstract
Troy EB, Lin T, Gao L, Lazinski DW, Camilli A, Norris SJ, Hu LT. 2013. Understanding barriers to Borrelia burgdorferi dissemination during infection using massively parallel sequencing. Infect Immun 81: 2347-2357.  Abstract
Lin T, Gao L, Zhang C, Odeh E, Jacobs MB, Coutte Lc, Chaconas G, Philipp MT, Norris SJ. 2012. Analysis of an ordered, comprehensive STM mutant library in infectious Borrelia burgdorferi: Insights into the genes required for mouse infectivity. PLoS ONE 7: e47532. Abstract
Norris, S J., J. A. Howell, E. A. Odeh, T. Lin, L. Gao, and D. G. Edmondson. 2011.  High-throughput plasmid content analysis of Borrelia burgdorferi B31 using Luminex multiplex technology.  Appl. Env. Microbiol. 77:1483-1492. Abstract
Additional Information
Academic Appointments
Univ. of California at San Diego School of Medicine, Department of Pathology
Assistant Research Pathologist,  1981‑1982.
UTHealth Medical School, Dept. of Pathology and Laboratory Medicine
Assistant Professor, 1982‑1989.
Associate Professor, 1989-1996.
Cross Appointment, Dept. of Microbiology and Molecular Genetics , 1990-.
Professor, 1996-.
Vice Chair for Research, 1998-.
Robert Greer Professor of Biomedical Sciences, 2003-.
Honors and Awards
Fellow, American Academy of Microbiology, 1993-.
Faculty Mentor of the Year, University of Texas Medical School, 2000.
Karin Ippen-Ihler Lectureship, Texas A&M University,  2003.
Chancellor's Entrepreneurship and Innovation Award for Multiple Institution Projects, University of Texas System, 2007.
Regents Outstanding Teacher Award, University of Texas Health Science Centers, 2013.
Member, The University of Texas Kenneth I. Shine Academy of Health Science Education, 2014-.
Other Professional Activities
Reviewer, National Institutes of Health, Institute of Allergy and Infectious Diseases (over 40 study sections and 18 teleconference review panels)
Regular Member, Bacteriology and Mycology I Study Section, 1999-2003
Chair, Infectious Diseases & Microbiology-B Special Emphasis Panel for R21 and R03 applications (5 sessions, 2014-2019).
Vice Chair and Chair, Gordon Research Conference on Biology of Spirochetes, 1996-2000.
Member, Board of Editors, mBio, 2013-.
Member, Editorial Board, Infection and Immunity, 1994-.
Recent Media