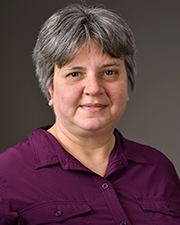 Associate Professor, Program In Regenerative Medicine
Biography
Dr. Juranek is an Associate Professor at the University of Texas Health Science Center in the Department of Pediatric Surgery. Dr. Juranek is a neuroscientist with expertise in advanced neuroimaging techniques targeting brain plasticity during development and after injury. Supported by NIH funding over the last 20 years, Dr. Juranek has established successful collaborations with interdisciplinary research teams to investigate clinical and cognitive outcomes in patient populations with neurodevelopmental disorders or acquired brain injury (e.g. traumatic brain injury or stroke).
In 1998, Dr. Juranek received her PhD from the Neuroscience program in Psychology at the University of California Riverside. At the time of her PhD program, Dr. Juranek's research interests were focused on neural plasticity of the brain and spinal cord informed by animal model systems. Following a year-long postdoctoral fellowship in spinal cord research, Dr. Juranek transitioned her research interests to more clinically-oriented investigations of brain structure in pediatric and adult patient populations.
Dr. Juranek's earliest neuroimaging studies targeted brain-behavior relations in clinical populations with neurodevelopmental disorders including autism, ADHD, very low birthweight, and epilepsy. At the time, there were very few software tools available to conduct quantitative analyses of brain structure. The tools available were labor-intensive and required highly-trained technicians to successfully guide the software to delineate boundaries between structures. However, relating volumetric measures to neuropsychological assessments demonstrated that inter-subject variability in volume is important for understanding neurobiological bases of behavior. As neuroimaging tools became more advanced, Dr. Juranek led her investigations beyond volumetric analyses to pursue research questions about white matter integrity using diffusion tensor imaging methods.
Over the last decade, Dr. Juranek has developed successful collaborations with researchers at UTHealth conducting interdisciplinary studies in traumatic brain injury. While some of these studies have targeted quantitative brain measures in relation to neuropsychological outcomes, other studies are part of phase II clinical trials investigating the use of autologous bone marrow cells as a potential treatment option for preserving white matter volume and integrity in children and adults who have sustained a severe traumatic brain injury. Additionally, Dr. Juranek has led the neuroimaging project of a multi-center collaboration with University of Houston and the University of Texas at Austin to investigate malleable neurobiological features underlying response to evidence-based intervention in studies of reading disabilities in school-aged children.
Education
BS

Psychology - Valparaiso University, Valparaiso, IN

PhD

Neuroscience - University of California, Riverside, CA

Postdoctoral

Neurophysiology, Department of Neuroscience - University of California, Riverside, CA

Postdoctoral

Neuroimaging, Department of Pediatrics - University of California Irvine Medical Center, Orange CA

Postdoctoral

Neuroimaging, Department of Anatomy and Neurobiology - University of California-Irvine, Irvine, CA
Areas of Interest
Research Interests
Dr. Juranek's research focuses on neuroimaging in clinical and neurodevelopmental populations. She is an expert concerning structural MRIs, DTIs, and functional MRIs. At the Children's Learning Institute, Dr. Juranek supervises neuroimaging research projects while mentoring graduate students and postdoctoral fellows.