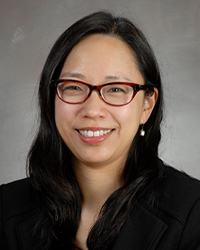 Lillian S. Kao, MD, MS, FACS
Professor of Surgery
Co-Director, Center for Surgical Trials and Evidence-based Practice
Biography
High-achiever Lillian Kao was born in Chicago, and raised in the city's suburbs. She was recently president of the Association for Academic Surgery, a society which promotes the development of young academic surgeons through courses on surgical research and career development, research awards, and early opportunities for leadership.
After completing a seven-year undergraduate and medical school program at the University of Michigan, Lillian did her residency at the University of Washington.
The focus of her research is to improve disparities of care. "I have found that the key is to align your clinical work with your research in order to be the best surgeon you can be. You've also go to know yourself, and recognize your strengths and limitations."
In her free time, Lillian likes kickboxing with her trainer because "nobody hits me back!". She also enjoys going to the dog park with her half-lab, half border collie, Jude. Growing up, she studied piano and violin.
"If I hadn't gone into surgery, I'm sure I would be in a teaching position today. But I really like what I do. I think the title of my life story would be the Battle Hymn of the Tiger Surgeon."
Education
MD

University of Michigan Medical School, Ann Arbor, MI

Residency

University of Washington Medical Center, Seattle, WA

Fellowship

University of Washington Medical Center, Seattle, WA
Publications