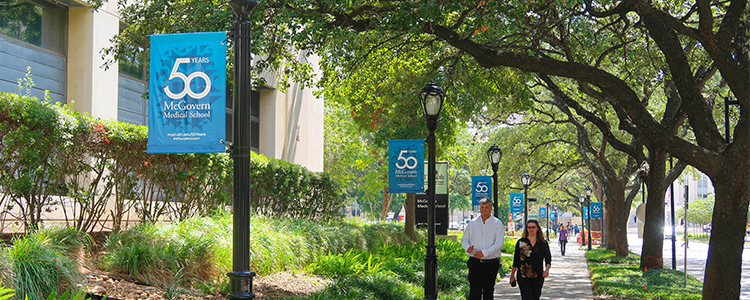 About Us
McGovern Medical School is the ninth-largest medical school in the United States. Located in the heart of the Texas Medical Center, the school was established by the Texas Legislature in 1969 to address the shortages of physicians and the then-untapped resources for medical education in Houston.
The first class of 19 entered the Medical School 1970, and by 1979, class sizes of 200, legislatively supported through state formula funding, were the norm. Today, McGovern Medical School accepts classes of 240 per year to meet the growing demand of physicians throughout the state of Texas. (See McGovern Medical School timeline)
With nearly 1,000 medical students and a similar number of residents and fellows, McGovern Medical School is the ninth-largest and most diverse medical school in the country. Students have access to the latest technology and are taught with an emphasis on humanities, ethics, patient quality, and safety.
McGovern Medical School is affiliated with several inpatient hospitals and outpatient facilities, providing a broad range of clinical services.  Our primary teaching hospital, Memorial Hermann-Texas Medical Center, recently was named the second top teaching hospital in the nation. Within these amazing environments, students are exposed to a large and diverse population, with an appropriate balance of common and rare disorders.
McGovern Medical School students have access to a rich collaborative environment that includes not only the UTHealth Houston schools of dentistry, nursing, bioinformatics, biomedical sciences, and public health but also all of the institutions of the vibrant Texas Medical Center.
Learn about our McGovern legacy.
---
Accreditation
The University of Texas Health Science Center at Houston (UTHealth Houston) is accredited by the Southern Association of Colleges and Schools Commission on Colleges to award certificate, baccalaureate, masters, doctorate, and special professional degrees. Contact the Commission on Colleges at 1866 Southern Lane, Decatur, Georgia 30033-4097 or call 404-679-4500 for questions about the accreditation of The University of Texas Health Science Center at Houston.
Since its inception, more than 7,000 physicians have earned their medical degrees here. McGovern Medical School also provides residency and fellow training as well as continuing education programs for practicing physicians. McGovern Medical School is accredited by the Liaison Committee on Medical Education located at: 655 K Street, NW, Suite 100, Washington, DC 20001. Telephone: 202.828.0596. See more information on the LCME.
---
Eighteen Characteristics of Texas Doctoral Programs
In 2009, the Texas Higher Education Coordinating Board (THECB) began to require all public universities and health-related institutions with doctoral programs to collect and publish specified information on their websites regarding certain Characteristics of Doctoral Programs approved by the Board. The required information for McGovern Medical School is provided here.
---
Historical Milestones
McGovern Medical School has a rich history, created and sustained by pioneering medical education leaders. View a timeline of our historical accomplishments.