Our Traditions
The four years of your medical education at McGovern Medical School will be filled with moments you will never forget. Our school is grounded by time-honored traditions, which each class celebrates.
Student Retreat
Before our students start the rigors of medical school, they are treated to an informal student retreat, indoctrinating them into the culture of McGovern Medical School in a casual and playful environment. Here, friends for a lifetime are formed.
---
White Coat Ceremony
Medical students don their white coats during this ceremony and also take the Oath of Hippocrates for the first time, pledging their commitment to their future profession and patients.
---
Cadaver Memorial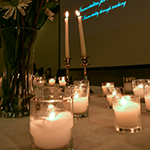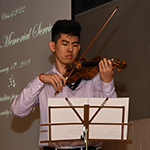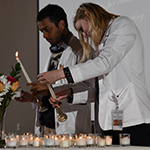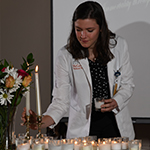 Following their first semester of Gross Anatomy, first-year medical students honor their first patients by hosting a ceremony for the cadavers. Gross Anatomy is an integral part of the medical students' education, and this ceremony pays tribute to the men and women who donate their bodies to further our students' knowledge.
---
Match Day
Match Day is arguably the most exciting day in medical school. Coordinated by the National Resident Matching Program, graduating students are matched to a residency program, where they will continue their medical specialty training upon graduation. All students are handed an envelope with the residency program information, and it is revealed simultaneously on the medical school's Webber Plaza.
---
Commencement
This final ceremony of the student's career is a celebration of a successful medical education and a day for our graduates to be congratulated by their family, friends, faculty, and peers.
---
McGovern Day

Thanks to the generosity of the John P. McGovern Foundation, our school was renamed the McGovern Medical School Nov. 23, 2015. To celebrate this transformational gift, which will forever advance medical training, scientific discovery and innovation at the university, each year we celebrate McGovern Day.