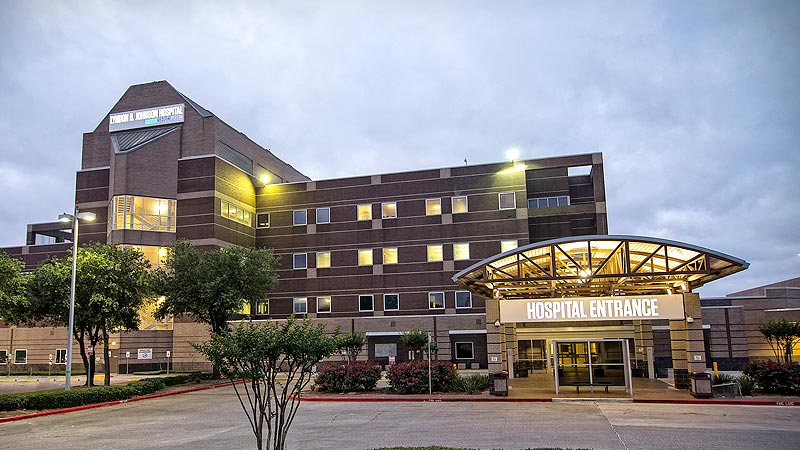 Lyndon B. Johnson Hospital
We are: CLINICIANS, RESEARCHERS, EDUCATORS
Greetings from Lyndon Baines Johnson (LBJ) Hospital, a major teaching hospital for McGovern Medical School at The University of Texas Health Science Center at Houston (UTHealth).
The LBJ Chief of Staff team ensures that the tripartite mission of McGovern Medical School (the highest quality education, the highest quality research, and exemplary clinical services) is achieved at LBJ Hospital and the affiliated clinics.
350 Physician faculty and advanced practice providers, and 250 fellows and residents from McGovern Medical School at UTHealth comprise the staff at LBJ Hospital and affiliated clinics. One of the OB-GYN residency programs for the medical school is based here and all residents from the twenty-four McGovern Medical School training programs rotate through the hospital.
LBJ Hospital is part of the Harris Health System and is located on the Northeast side of Houston. LBJ is an acute care hospital offering a full range of medical services. See the Medical Leadership tab for more information on each service. LBJ is a verified Level III trauma center and is the state's busiest. There are approximately 81,000 emergency patient visits each year. Per day, we average 215 emergency center visits, 200 outpatient visits, 33 admissions, 24 surgeries, and six deliveries.
We work as part of an interprofessional team with Harris Health to ensure the Houston community receives exceptional healthcare provided by highly trained physicians and advanced practice providers. We are proud of our McGovern Medical School, proud to be part of the UTHealth and Harris Health systems, and proud of the services LBJ Hospital affords this community.
Lyndon B. Johnson Hospital
5656 Kelley Street
Houston, TX 77026
713-566-5100