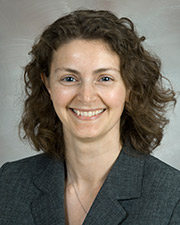 Education
Postdoctoral Fellow

Boston Children's Hospital & Harvard Medical School, 2012

Ph.D.

Ohio State University, 2007
Areas of Interest
Research Interests
Force Sensing and Metabolism
The Wenzel Lab is focused on the role of biomechanical force generated by flow of fluids such as blood and lymph in determination of cellular fate, motility behaviors, and modulation of the immune system. We are particularly interested in cellular mechanisms which could be leveraged for treatment of patients with hematological disorders, immune dysfunction, and cancers. Our cancer research aims to identify new ways of preventing the spread of cancer by understanding how lymphatic flow and force in the tumor microenvironment modulate metastatic programs and the immune system. Our stem cell research seeks to support recovery of the immune system after cancer treatment and is centered on how blood flow regulates fate decisions and energy metabolism during hematopoietic stem cell specification. Our team employs principles of molecular genetics, cell biology, bioenergetics, microfabrication, and engineering to address these questions.
Publications
Mohammadalipour A, Diaz MF, Livingston M, Ewere A, Zhou A, Horton PD, Olamigoke LT, Lamar JM, Hagan JP, Lee HJ & Wenzel PL. (2022) RhoA-ROCK competes with YAP to regulate amoeboid breast cancer cell migration in response to lymphatic-like flow. FASEB BioAdvances, 4(5): 342-361, doi.org/10.1096/fba.2021-00055.
Mohammadalipour A, Dumbali SP, & Wenzel PL. (2020) Mitochondrial transfer and regulators of mesenchymal stromal cell function and therapeutic efficacy. Frontiers in Cell and Developmental Biology. 8:603292. doi: 10.3389/fcell.2020.603292.
Gu Q, Yang X, Lv J, Zhang J, Xia B, Kim J, Wang R, Xiong F, Meng S, Clements TP, Tandon B, Wagner DS, Diaz MF, Wenzel PL, Miller YI, Traver D, Cooke JP, Li W, Zon LI, Chen K, Bai Y, & Fang L.  (2019).  AIBP-mediated Cholesterol Efflux Instructs Hematopoietic Stem and Progenitor Cell Fate.  Science. 363(6431):1085-1088.
Lin Y, Kobayashi M, Mishra A, Hongyu G, Liu Y, Wenzel P, Davis B, Yoder MC, & Yoshimoto M. (2019).  Long-term engraftment of embryonic stem cell-derived B-1 progenitors supports hematopoietic stem cell-independent lymphopoiesis. Stem Cell Reports. 12(3):572-583.
Lee HJ, Ewere A, Diaz MF, & Wenzel PL. (2018). TAZ responds to fluid shear stress to regulate the cell cycle. Cell Cycle. 17(2): 147-153.
Lee HJ, Diaz MF, Price KM, Ozuna JA, Zhang S, Sevick-Muraca EM, Hagan JP, & Wenzel PL. (2017). Fluid shear stress activates YAP1 to promote cancer cell motility. Nature Communications. 8:14122.  *****This work was featured in a news story at UTHealth: https://www.uth.edu/news/story.htm?id=e2ea8aec-975e-4ee1-af8e-8d975d8fe8e6*****
Recommended in F1000Prime for special significance in its field.
Diaz MF, Vaidya AB, Evans SM, Lee HJ, Aertker BM, Alexander AJ, Price KM, Ozuna JA, Liao GP, Aroom KR, Xue H, Gu L, Omichi R, Bedi S, Olson SD, Cox CS, & Wenzel PL. (2017). Biomechanical forces promote immune regulatory function of bone marrow mesenchymal stromal cells. Stem Cells. 35:1259-1272.