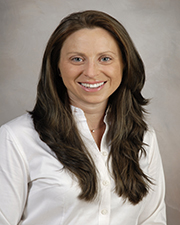 Jennifer M. Bailey, M.A., Ph.D.
Assistant Professor, Gastroenterology, Hepatology and Nutrition, McGovern Medical School
Biography
Dr. Bailey joined The University of Texas Medical School-Houston in September of 2014 as an Assistant Professor in the Department of Internal Medicine, Division of Gastroenterology, Hepatology and Nutrition. She joins the department after completing her postdoctoral fellowship at Johns Hopkins University.
Dr. Jennifer Bailey earned her B.S. in Molecular Biology from the University of Nebraska-Lincoln in 2002, where she studied the role of algal lipopolysaccharides on the innate immune system in the Laboratory of Professor Ted Pardy. As an undergraduate student she also worked with Professor Bill Tapprich at the University of Nebraska-Omaha, where she studied the RNA structure of viral IRES elements and completed her M.A. in Biochemistry in 2004. While completing her degree, she was accepted as a summer fellow at the National Institutes of Health where she worked in the lab of Dr. Steven Jacobson. She then went on to pursue her Ph.D. in Cancer Research from the Eppley Institute at the University of Nebraska Medical Center in the Laboratory of Professor Tony Hollingsworth. Her dissertation work focused on mechanisms regulating pancreatic cancer progression and metastases. This research effort included the fundamental observation that hedgehog ligands regulate desmoplasia in pancreatic cancer.
After completing her Ph.D. in 2009, she moved to Johns Hopkins University School of Medicine to continue her work in pancreatic cancer. She joined the laboratory of Professor Steven Leach and studied mechanisms regulating pancreatic cancer regeneration and early neoplasia. Notably, during her postdoctoral studies, Dr. Bailey identified a putative cancer stem cell population present in preinvasive pancreatic cancer that has a gastrointestinal "tuft" cell morphology and is marked by Dclk1 and Acetylated α-tubulin. She received an F32 Individual Postdoctoral Award from the National Cancer Institute to fund her work, and in 2011, Dr. Bailey was awarded the Pancreatic Cancer Action Network/AACR Pathway to Leadership Award.
She is a member of the American Association for Cancer Research, where she previously served on the Associate Member Council, the American Gastroenterological Association and the American Association for the Advancement of Science.
Education
Postdoctoral Fellowship

Johns Hopkins University School of Medicine

Ph.D. Cancer Research

The Eppley Institute, University of Nebraska Medical Center
Areas of Interest
Research Interests
Research Information
The overall research program in the Bailey Lab is centered on understanding the biology of precancerous and cancerous lesions in the gastrointestinal system, with a focus on the molecular processes that regulate the transition from normal epithelium to cancer. For a number of years, we have employed lineage-tracing techniques to study stem cells and cells of origin in genetically engineered mouse models. In addition, we use these models to understand chronic inflammatory processes that increase the risk for the accumulation of oncogenic mutations in the pancreatic epithelium. There are a number of funded projects in the lab related to these ideas, and our overall goal is to better define therapeutic strategies for the personalized treatment of pancreatic and other GI malignancies.
Three main ideas underscore the work the Bailey lab: 1) To identify the genetic, epigenetic, whole transcriptome, and paracrine signaling events that regulate epithelial regeneration and transformation. 2) To better understand the genetic and epigenetic processes that regulate cellular plasticity. 3) To identify the genetic and epigenetic events that regulate how different cell types respond to the accumulation of mutations that drive neoplastic progression.
We comprehensively use genetic mouse models, cell culture and human tissue specimens to address a number of targeted hypotheses related to these main goals. We are enthusiastically expanding our translational research efforts and collaborations within the Texas Medical Center Digestive Disease Center, The Ertan Digestive Disease Center and the Department of Surgery.
Current Lab Members:
Kishore Polireddy, PhD: Postdoctoral Fellow
Kanchan Singh, PhD: Postdoctoral Fellow
Guanghui Zhu, MD, PhD: Visiting Scientist
Neal Jones: Medical Student
Melissa Pruski: Senior Research Assistant
Publications
Publication Information
REFERENCES
Hendley AM, Wang YJ, Alsina J, Ahmed I, Lafaro KJ, Zhang H, Roy N, Savidge S, Cao Y, Hebrok M, Maitra A, Reynolds AB, Goggins M, Younes M, Iacobuzio-Donahue CA, Leach SD, and Bailey JM. (2016). p120 Catenin suppresses basal epithelial cell extrusion in invasive pancreatic neoplasia. Cancer Research. Mar. 31. PMID: 269844
Choi, E, Hendley, AM, Bailey JM, Leach SD, Goldenring JR. (2015). Initiation of the full spectrum of pre-cancerous metaplastic conversion in the mouse stomach. Gastroenterology. Dec 8. PMID: 26677984
Bailey JM*, Hendley AM, Lafaro KJ, Pruski MA, Jones NC, Alsina J, Younes M, Maitra A, McAllister F, Iacobuzio-Donahue CA, Leach SD. (2015). p53 gain-of-function mutations promote adenocarcinoma from pancreatic ductal cells. Oncogene. Nov 23 *Corresponding author PMID: 26592447
Bailey JM*, Hendley AM, and Maitra A. (2015). New Insights Into the Plasticity of Pancreatic Cancer: Cancer to Acinar Cell Reprogramming by the Basic Helix-Loop-Helix Transcription Factor E47. Pancreas, Jul;44(5):683-5. *Corresponding author PMID: 26061556
Hendley AH, and Bailey JM. (2015). Stem Cells and Pancreatic Cancer. Principles of Stem Cell Biology and Cancer: Future Applications and Therapeutics. John Wiley & Sons, Ltd, Chichester, UK.
Bailey JM, Alsina J, Rasheed ZA, McAllister FM, Fu Y-Y, Plentz R, Zhang H, Pasricha PJ, Bardeesy N, Matsui W, Maitra A, Leach SD. (2014). DCLK1 Marks a Morphologically Distinct Subpopulation of Cells with Stem Cell Properties in Pre-invasive Pancreatic Cancer. Gastroenterology. Jan;146(1):245-56. PMID: 24096005
McAllister FM, Bailey JM, Alsina J, Maitra A, Kolls J, Pardoll D, Seers C, and Leach SD. (2014). Oncogenic Kras activates an IL-17+ hematopoietic-to-epithelial signaling axis in preinvasive pancreatic neoplasia. Cancer Cell. May;25(5):621-637. PMID: 24823639
Rhim AD, Mirek ET, Aiello NM, Maitra A, Bailey JM, McAllister F, Reichart M, Beatty GL, Rustgi AK, Vonderheide RH, Leach SD, Stanger BZ. (2012). EMT and dissemination precede pancreatic tumor formation. Cell Jan 20;148(1-2):349-61. PMID: 22265420
Bailey JM, Swanson BJ, Hamada T, Eggers JP, Singh PK Caffery TC, Ouellette MM, and Hollingsworth MA. (2008). Sonic Hedgehog Promotes Desmoplasia in Pancreatic Cancer. Clin Cancer Res., Oct 1;14(19):5995-6004. PMID: 18829478
Bailey JM, Mohr AM, and Hollingsworth MA. (2009). Sonic Hedgehog Paracrine Signaling Regulates Metastasis and Lymphangiogenesis in Pancreatic Cancer. Oncogene. Jul. 27. PMID: 19633682
Behrens ME, Grandgenette PM, Bailey JM, Singh PK, Yi CH, Yu F, and Hollingsworth MA. (2010). The reactive tumor microenvironment: MUC1 signaling directly reprograms transcription of CTGF. Oncogene. Aug 9. PMID: 20697347
Bunt SK, Mohr AM, Bailey JM, Grandgenett PM, and Hollingsworth MA. (2012). Rosiglitazone and Gemcitabine combination therapy reduces immune suppression and modulates T cell populations in pancreatic cancer. Cancer Immuno Immunother. Aug 5. PMID: 22864396
Bailey JM, and Leach SD. (2012). Signaling Pathways Mediating Epithelial-Mesenchymal Crosstalk in Pancreatic Cancer: Hedgehog, Notch and TGFβ. Pancreatic Cancer and the Tumor Microenvironment. Trivandrum (India): Transworld Research Network; Chapter 7. PMID: 22876389