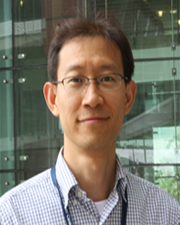 Assistant Professor, The Brown Foundation Institute of Molecular Medicine , Center for Molecular Imaging
Education
Ph.D.

Texas A&M University, 2006
Areas of Interest
Research Interests
Functional lymphatic imaging in health and disease
Research Information
Functional lymphatic imaging in health and disease
The lymphatics play vital roles in edema prevention, immune surveillance, lymphocyte circulation, as well as fluid/protein homeostasis.  All of these functions may require a regulated lymph flow and the alteration of these functions can cause obesity, edema, as well as other diseases.  Despite its importance in the physiological and pathophysiological conditions, non-invasive imaging of lymphatic function has significant difficulties, due mainly to the lack of diagnostic imaging approaches.  Recently, we have developed for the first time novel, non-invasive and quantitative NIR fluorescence imaging with sufficient temporal resolution to assess lymphatic contractile function in normal mice with intradermal injection of indocyanine green (ICG).  In addition, we have demonstrated (i) a unique lymphatic phenotype in lymphedema-like transgenic mice and (ii) changes of lymphatic architecture and contractile function in response to tumor progression and metastasis.
The knowledge gained with the above studies will help to better understand the connections in health and disease that impacts the lymphatic system, and to efficiently use our new understandings of lymphatic biology to identify and better manage diseases in which the lymphatics play a role.
Other direction of my scientific interests is molecular imaging of cancer and inflammation.  The Center for Molecular Imaging is developing and translating molecular imaging agents, which are dual-labeled with a PET/SPECT radiotracer and a NIR fluorescent dye.
Publications
Publication Information
REFERENCES
Kwon, S., Ke, S., Houston, J.,P., Wang, W., Wu, Q., Li, C., and Sevick-Muraca, E.M. (2005). Imaging dose-dependent pharmacokinetics of an RGD-fluorescent dye conjugate targeted to αvβ3 receptor expressed in Kaposi's sarcoma. Molecular Imaging, 4; 75-87. (Cover of issue).
Kwon, S. and Sevick-Muraca, E.M. (2007). Non-invasive quantitative imaging of lymph function in mice. Lymphatic Research and Biology, 5; 219-232.
Sampath, L., Kwon, S., Ke, S., Schiff, R., and Sevick-Muraca, E.M. (2007). Dual-labeled trastuzumab-based imaging agent for the detection of HER-2 receptor overexpression in metastatic breast cancer. J Nuclear Med, 48; 1501-1510. (Cover of issue).
Wang, W., Ke, S., Kwon, S., Yallampalli, S., Cameron, A., Adams, K.E., Mawad, M.E., and Sevick-Muraca, E.M. (2007). A new optical and nuclear dual-labeled imaging agent targeting interleukin 11 receptor alpha-Chain. Bioconjugate Chemistry, 18; 397-402.
Sharma, R., Wang, W., Rasmussen, J., Joshi, A., Houston, J., Adams, K.E., Cameron, A., Kwon, S., Mawad, M.E., and Sevick-Muraca, E.M. (2007). Quantitative imaging of lymph function. American J Physiology: Heart and Circulatory Phys, 292; H3109-H3118.
Adams, K.E., Ke, S., Kwon, S., Liang, F., Fan, Z., Lu, Y., Hirshi. K., Mawad, M.E., Barry, M.A., and Sevick-Muraca, E.M. (2007). Comparison of visible and near-infrared wavelength-excitable fluorescent dyes for molecular imaging of cancer. J Biomedical Optics, 12; 024017.
Foster, A., Kwon, S., Lu, A., Eldin, K., Bollard, C., Sevick-Muraca, E.M., Ke, S., and Rooney, C. (2008). In vivo optical imaging of cytotoxic T lymphocytes using near-infrared fluorescent dyes. J Applied Optics, 47; 5944-5952.
Cubas, R., Zhang, S, Kwon, S., Sevick-Muraca, E.M., Li, M., Chen, C., and Yao, Q. (2009). VLP Lymphatic Trafficking and immune response generation after immunization by different routes. J Immunotherapy, 32; 118-128.
Sampath, L., Kwon, S., Hall, M.A., Price, R.E., and Sevick-Muraca, E.M. (2010). Detection of cancer metastases with a dual-labeled NIR/PET imaging agent. Translational Oncology, 3; 307-317.
Olabisi, R.M., Lazard, Z.W., Franco, C.L., Hall, M.A., Kwon, S., Sevick, E.M., Hipp, J.A., Davis, A.R., Olmsted-Davis, E.A., and West, J.L. (2010) Hydrogel microsphere encapsulation of a cell-based gene therapy system increases cell survival of injected cells, transgene expression and bone volume in a model of heterotopic ossification. Tissue Engineering, 16; 3727-3736.
Kwon, S. and Sevick-Muraca, E.M. (2010). Functional lymphatic imaging in tumor-bearing mice. J Immunological Methods, 360; 167-172.
Rasmussen J.C., Tan, I-C, Marshall, M.V., Adams, K.E., Kwon, S., Fife, C.E., Maus, E.A., Smith, L., Covington, K.R., and Sevick-Muraca, E.M. (2011). Human lymphatic architecture and dynamic transport imaged using near-infrared fluorescence. Translational Oncology, 1; 362-372.
Aldrich, M., Wang X., Hart A., Kwon S., Sampath L., Marshall M., and Sevick E.M. (2011). Assessment of free dye in solutions of dual-labeled antibody conjugates for in vivo molecular imaging. Molecular Imaging & Biology, 13; 32-42.