Graduate Students Win People's Choice Award In SfN Video Contest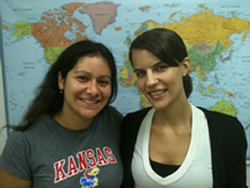 The Synaptic Plasticity video by graduate students Julia Hill and Natalia Rozas De O'Laughlin has won the People's Choice Award after placing third in the 2011 Inaugural Society for Neuroscience Brain Awareness Video Contest. In addition to a cash prize, their success will be celebrated at the Society's annual Brain Awareness Campaign Event during Neuroscience 2011.
Watch their video below. Congratulations Julia and Natalia!