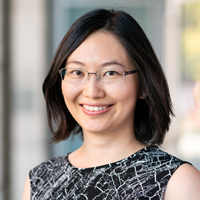 Biography
Dr. Ma received her Honors Bachelor of Science in Toxicology at the University of Toronto in Canada. She then went on to complete her Masters in Physiology with Drs. Howard Mount and JoAnne McLaurin at the Tanz Center for Research in Neurodegenerative Diseases and Ph.D. in Laboratory Medicine and Pathobiology with Dr. JoAnne McLaurin at the University of Toronto. She pursued her postdoctoral training at the Gladstone institutes and UCSF with Dr. Jorge Palop, focused on inhibitory interneuron dysfunction and neuronal network abnormalities in Alzheimer's disease. Dr. Ma joined the Department of Neurobiology and Anatomy at UTHealth in 2022 as Assistant Professor. She was awarded the prestigious NIH K99/R00 pathway to independence award from NIA and the Rising STARs Award from the UT System.
Areas of Interest
Research Interests
The Ma lab aims to understand neuron-glia interactions and cellular dysfunction underlying behavioral disturbances in Alzheimer's disease (AD) at the molecular, cellular, circuit and network levels. AD results in aberrant rhythmic electrical activity in the brain (oscillations) and abnormal synchronization of neuronal activity leading to cognitive and behavioral deficits. We are interested in understanding neuronal functional deficits and modulation of neuronal activity by microglia and astrocytes in mouse models of AD. Specifically, we seek to understand the effect of major AD genetic risk factors ApoE and TREM2 on neuron-glia interactions and neuronal activity that underlie neuronal dysfunction, aberrant brain oscillations, network hypersynchrony and cognitive impairment in AD.  We employ advanced state-of-the-art tools in in vivo electrophysiology and 2-photon imaging in awake behaving mice, virtual reality behavioral paradigms, machine learning, and RNA sequencing to address our research questions. We use optogenetics, genetic manipulation and pharmacological intervention to modulate specific neuronal and glial functions to gain further mechanistic insight for therapeutic interventions. Targeting functional deficits in neurons and glia to restore brain oscillations and improve cognitive and behavioral functions could prove to be a viable and innovative therapeutic strategy for the treatment of AD.
Publications
Merlini M*, Rafalski VA*, Ma K, Kim KY, Bushong EA, Rios Coronado PE, Yan Z, Mendiola AS, Sozmen EG, Ryu JK, Haberl MG, Madany M, Sampson DN, Petersen MA, Bardehle S, Tognatta R, Dean TJr., Acevedo RM, Cabriga B, Thomas R, Coughlin SR, Ellisman MH, Palop JJ, and Akassoglou K. Microglial Gi-dependent dynamics regulate brain network hyperexcitability. Nature Neuroscience, 2020 (*equal contribution co-first author)
Hanson JE*, Ma K*, Elstrott J*, Weber M*, Saillet S*, Khan AS, Simms J, Liu B, Kim TA, Yu GQ, Chen Y, Wang T, Jiang Z, Liederer BM, Deshmukh G, Solanoy H, Chan C, Sellers BD, Volgraf M, Schwarz JB, Hackos DH, Weimer RM, Sheng M, Gill TM, Scearce-Levie K and Palop JJ. GluN2A NMDA receptor enhancement ameliorates aberrant network oscillations, hypersynchrony and cognitive deficits in Dravet syndrome and Alzheimer's disease mouse models. Cell Reports. 2020 Jan 14;30(2):381-396.e4 (*equal contribution co-first author)
Martinez-Losa M*, Tracy TE*, Ma K*, Verret L, Clemente-Perez A, Khan AS, Cobos I, Ho K, Gan L, Mucke L, Alvarez-Dolado M, Palop JJ. Nav1.1-Overexpressing Interneuron Transplants Restore Brain Rhythms and Cognition in a Mouse Model of Alzheimer's Disease. Neuron. 2018 Apr 4;98(1):75-89. (*equal contribution co-first author)
Ma K, McLaurin J.  α-Melanocyte Stimulating Hormone as a Potential Therapy for Alzheimer's Disease. Curr Alzheimer Res. 2016 Aug 19.
Ma K, McLaurin J. α-Melanocyte Stimulating Hormone Prevents GABAergic Neuronal Loss and Improves Cognitive Function in Alzheimer's Disease. J Neurosci. 2014 May 14;34(20):6736-45.
Yu W, Bonnet M, Farso M, Ma K, Chabot JG, Martin E, Torriglia A, Guan Z, McLaurin J, Quirion R, Krantic S. The expression of apoptosis inducing factor (AIF) is associated with aging-related cell death in the cortex but not in the hippocampus in the TgCRND8 mouse model of Alzheimer's disease. BMC Neurosci. 2014 Jun 10;15:73.
Dorr A, Sahota B, Chinta LV, Brown ME, Lai AY, Ma K, Hawkes CA, McLaurin J, Stefanovic B. Amyloid-β-dependent compromise of microvascular structure and function in a model of Alzheimer's disease. Brain. 2012 Oct;135(Pt 10):3039-50.
Ma K, Thomason LA, McLaurin J. scyllo-Inositol, preclinical, and clinical data for Alzheimer's disease. Adv Pharmacol. 2012;64:177-212.
Ma K, Mount HT, McLaurin J.  Region-specific distribution of β-amyloid peptide and cytokine expression in TgCRND8 mice. Neurosci Lett. 2011 Mar 29;492(1):5-10.
Fenili D, Ma K, McLaurin J. scyllo-Inositol, a potential therapeutic for Alzheimer's Disease. Emerging Drugs and Targets for Alzheimer's Disease. Royal Society of Chemistry, Cambridge, UK (2010).
Job Openings
The Ma lab is recruiting Postdoctoral Fellows, Graduate students, and Research Assistants who are motivated, creative, and interested in investigating pathophysiological interactions between neuron-neuron and neuron-glia that result in aberrant network activity and cognitive deficits in Alzheimer's disease. Candidates with experience in two-photon imaging, in vivo electrophysiology, mouse behavior, machine learning, and/or histology/molecular/biochemical techniques are encouraged to apply. Interested candidates should send their CV and names of three references to: keran.ma@uth.tmc.edu.