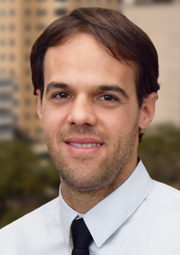 Fabricio H. Do Monte, D.V.M., Ph.D.
Assistant Professor, Neurobiology and Anatomy
Biography
Dr. Do Monte received his bachelor's degree in veterinary medicine from Universidade do Estado de Santa Catarina in Brazil (2002), and his master's and PhD degrees (general pharmacology and neuropharmacology) from Universidade Federal de Santa Catarina in Brazil, under the mentorship of Dr. Antônio P. Carobrez. His master dissertation was directed to understand the mechanisms involved in the expression of both innate and learned fear memories (2006). His doctorate thesis was focused on elucidating the noradrenergic mechanisms mediating the extinction and reconsolidation of aversive memories (2010). As a postdoctoral fellow in Dr. Gregory Quirk's laboratory in the Department of Psychiatry at the University of Puerto Rico, Dr. Do Monte investigated the neural circuits regulating the retrieval of fear memories and the crucial role of the passage of time in the reorganization of these memories. During his postdoctoral training, he was awarded the prestigious "NIH pathway to independence award (K99/R00)" from the National Institute of Mental Health. Dr. Do Monte became an Assistant Professor in the McGovern Medical School at UTH in 2016, where he has recently been awarded a Rising STARs Award from the UT System.
Research Information
The Do Monte Lab focuses on understanding the neural circuits and mechanisms underlying emotional memories. We are particularly interested in elucidating how fear- and reward-associated memories interact to generate the most adaptive behavioral responses. Using a multidisciplinary approach in rats, we combine optogenetic, in vivo electrophysiological recording, pharmacological, immunohistochemical, and imaging techniques to investigate the mechanisms involved in balancing fear and reward stimuli, with emphasis on the innate defensive responses induced by predator cues.
The mammalian brain has an exceptional ability to associate aversive and rewarding stimuli with environmental cues. The correct discrimination between harmful and beneficial stimuli allows an organism to select the most appropriate response, thereby protecting it from danger. In humans, inappropriate retrieval of reward associated memories is the framework for substance abuse, whereas inappropriate retrieval of fear/aversive memories can lead to the development of anxiety disorders. Understanding the neural circuits mediating the integration of fear- and reward-associated memories may uncover more effective therapies for patients suffering from both anxiety and substance-related addictive disorders.
Publications
Publication Information
Do Monte, FH and Kirouac, GJ. Boosting of Thalamic D2 Dopaminergic Transmission: A Potential Strategy for Drug-Seeking Attenuation. eNeuro, 21;4(6), 2017. view PDF
Do Monte, FH*; Minier-Toribio*, A; Quiñones-Laracuente, K; Medina-Colón, EM; Quirk, GJ. Thalamic regulation of sucrose-seeking during unexpected reward omission. Neuron, 94(2):388–400.e4, 2017   view PDF
Martínez-Rivera, FJ; Rodríguez-Romaguera, J; Lloret-Torres, ME; Do Monte, FH; Quirk GJ, Barreto-Estrada, JL. Bidirectional modulation of extinction of drug seeking by deep brain stimulation of the ventral striatum. Biological Psychiatry, 80 (9):682-690, 2016. view PDF
Do Monte, FH; Quirk, GJ; Li, B; Penzo, MA. Retrieving fear memories, as time goes by.  Molecular Psychiatry, 21(8):1027-1036, 2016. view PDF
Rosas-Vidal, LE; Rodriguez-Romaguera, J; Do Monte, FH; Andero, R. Targeting the reconsolidation of extinction memories: a novel potential strategy to treat anxiety disorders. Molecular Psychiatry, 20(11):1264-5, 2015. view PDF
Do Monte, FH*; Manzano-Nieves*, G; Quiñones-Laracuente, K; Ramos-Medina, L; Quirk, GJ. Revisiting the role of infralimbic cortex in fear extinction with optogenetics. The Journal of Neuroscience, 35(8):3607-3615, 2015. view PDF (Top 1% most cited paper in the academic field 12 months following publication, according to Web of Science).
Do Monte, FH; Quiñones-Laracuente, K; Quirk GJ. A temporal shift in the circuits mediating retrieval of fear memory. Nature, 519(7544):460-463, 2015. view PDF (Top 1% most cited paper in the academic field 12 months following publication, according to Web of Science)

Commentary featured in the journal "Nature Reviews Neuroscience": Yates, D. (2015). Neural circuits: a nucleus of fear. Nature Reviews Neuroscience 16, 121). view PDF
Rodriguez-Romaguera, J; Do Monte, FH; Tanimura, Y; Quirk, GJ; Haber, SN. Deep brain stimulation enhancement of fear extinction: evidence for medial orbitofrontal involvement. Neuropsychopharmacology, 40(7):1726-1733, 2015. view PDF
Bravo-Rivera, C; Diehl, MM;  Roman-Ortiz, C; Rodriguez-Romaguera, J; Rosas-Vidal, LE; Bravo-Rivera, H; Quiñones-Laracuente, K and Do Monte, FH. Long-range GABAergic neurons in the prefrontal cortex modulate behavior. Journal of Neurophysiology, 114:1357-1359, 2014. view PDF
Rosas-Vidal, LE; Do Monte, FH; Sotres-Bayon, F; Quirk, GJ. Hippocampal-prefrontal BDNF and memory for fear extinction, Neuropsychopharmacology, 39(9): 2161-2169, 2014. view PDF
Do Monte, FH; Rodriguez-Romaguera, J; Rosas-Vidal, LE; Quirk, GJ. Deep brain stimulation of the ventral striatum increases BDNF in the fear extinction circuit. Frontiers in Behavioral Neuroscience. 7:102, 2013. view PDF
Do Monte, FH; Souza, RR; Bitencourt, RM; Kroon, JA; Takahashi, RN. Infusion of cannabidiol into infralimbic cortex facilitates fear extinction via CB1 receptors. Behavioral Brain Research, 250c:23-27, 2013. view PDF
Do Monte, FH*; Souza, RR*; Wong, TT; Carobrez, AP. Systemic or intra-prelimbic cortex infusion of prazosin impairs fear memory reconsolidation. Behavioral Brain Research, 244:137-141, 2013. view PDF
Rodriguez-Romaguera, J*; Do Monte, FH*; Quirk GJ. Deep brain stimulation of the ventral striatum enhances extinction of conditioned fear. Proceedings of the National Academy of Science – USA, 109(22):8764-8769, 2012. view PDF
Padilla-Coreano*, N; Do Monte, FH*; Quirk, GJ. A time-dependent role of midline thalamic nuclei in the retrieval of fear memory. Neuropharmacology, 62(1):457-463, 2012. view PDF
Do Monte, FH; Kincheski, G; Pavesi, E; Sordi, R; Assreuy, J; Carobrez, AP. Role of beta-adrenergic receptors in the ventromedial prefrontal cortex during contextual fear extinction in rats. Neurobiology of Learning and Memory, 94(3):318-328, 2010. view PDF
Stern, CA; Do Monte, FH; Gazarini, L; Carobrez, AP; Bertoglio, LJ. Activity in prelimbic cortex is required for adjusting the anxiety response level during the elevated plus-maze retest. Neuroscience, 170:214 – 222, 2010. view PDF
Do Monte, FH; Allensworth, M; Carobrez, AP. Impairment of contextual conditioned fear extinction after microinjection of alpha-1-adrenergic blocker prazosin into the medial prefrontal cortex. Behavioral Brain Research, 211:85 – 95, 2010. view PDF
Do Monte, FH; Canteras, NS; Fernandes, D; Assreuy, J; Carobrez, AP. New perspectives in beta-adrenergic mediation of innate and learned fear response to predator odor. The Journal of Neuroscience, 28(49):13296-13302, 2008. view PDF
Canteras, NS; Kroon, JA; Do Monte, FH; Pavesi, E; Carobrez, AP. Sensing danger through the olfactory system: the role of the hypothalamic dorsal premammillary nucleus. Neuroscience and Biobehavioral Reviews, 32:1228-1235, 2008. view PDF
Santos Jr, JG; Blanco, MM; Do Monte, FH; Russi, MA; Lanziotti, VM; Leal, LK; Cunha, GM. Sedative and anticonvulsant effects of hydroalcoholic extract of Equisetum arvense. Fitoterapia, 76:508-513, 2005. view PDF
Santos Jr, JG; Do Monte, FH; Blanco, MM; Lanziotti, VM; Maia, FD; Leal, LK. Cognitive enhancement in aged rats after chronic administration of Equisetum arvense L. with demonstrated antioxidant properties in vitro. Pharmacology Biochemistry and Behavior, 81:593-600, 2005.  view PDF
Santos Jr, JG; Tabosa, A; Do Monte, FH; Blanco, MM; Freire, AO; Mello, LE. Electroacupuncture prevents cognitive deficits in pilocarpine-epileptic rats. Neuroscience Letters, 384:234-238, 2005. view PDF
Do Monte, FH; Santos Jr, JG; Russi, MA; Lanziotti, VM; Leal, LK; Cunha, GM. Antinociceptive and anti-inflammatory properties of the hydroalcoholic extract of stems from Equisetum arvense L. in mice. Pharmacological Research, 49:239 – 243, 2004. view PDF
Santos Jr, JG; Do Monte, FH; Russi, MA, Augustine, P, Lanziotti,VM. Proconvulsant effects of high doses of venlafaxine in pentylenetetrazole-convulsive rats. Brazilian Journal of Medical and Biological Research, 35:469 – 472, 2002. view PDF
* denotes equal authorship