Doctors, mommies, and me
Revolutionizing treatment of pediatric and adult tumors, one patient at a time
This is my introductory blog and I am delighted to be in Houston where I continue to be impressed with the city as a great place to live and work. I see exciting potential in the opportunities at the McGovern Medical School and at The University of Texas Health Science Center at Houston (UTHealth) since I joined the Department of Orthopaedic Surgery in June, 2017.
The expertise and enthusiasm of the medical and nursing staff of Memorial Hermann has been impressive and the large size and diversity of the Memorial Hermann hospital network is notable. The support and interest in pediatrics at Children's Memorial Hermann Hospital is fantastic, and covers all of Greater Houston. The McGovern Medical School is the sixth largest medical school in the United States and is located in the world-renowned Texas Medical Center and also has great academic and clinical resources.
Upcoming posts will touch on our future clinical recommendations for pediatric and adult tumors, with a focus on pediatric limb-sparing procedures, benign pediatric tumors, and soft tissue sarcomas in adults. We will also discuss Positron Emission Tomography (PET) scans and how they have revolutionized the early evaluation and management of all sarcoma patients.
Most importantly, I would like to bring awareness of the keys for successful tumor treatment represented in our patient cases. It will be an honor to shine a light on our inspirational adult and children patients. These patient stories touch on not just their diagnosis and treatment, but also their courage. I continue to be astounded by the courage of the average man and woman facing a cancer diagnosis and the courage of children, young adults and families facing a cancer diagnosis is also inspiring to us all.
I started my career as a OR "scrub nurse" in college and was immediately fascinated with surgical and operative techniques. As a young athlete in school, I knew I wanted to go into orthopedic surgery. During my journey through medical school, residency and fellowships, I enjoyed working with both adults and children and recognized the opportunity of caring for bone and soft tissue tumors in children. I worked at Memorial Sloan Kettering Cancer Center in New York City early in my orthopaedic career and in the initial days of chemotherapy for osteosarcoma, I was captivated by the multidiscipline care and surgical challenges, the need to build strong multidiscipline teams for sarcoma patients, and the future potential of chemotherapy in patients with high grade sarcomas.
My specialty is orthopedic oncology, and my clinical focus will be on treatment of bone and soft tissue tumors in children and adults, and in the reconstructions for bone tumors. Being able to diagnose benign or malignant bone tumors in children can be very challenging, because of the imaging and pathology subtleties.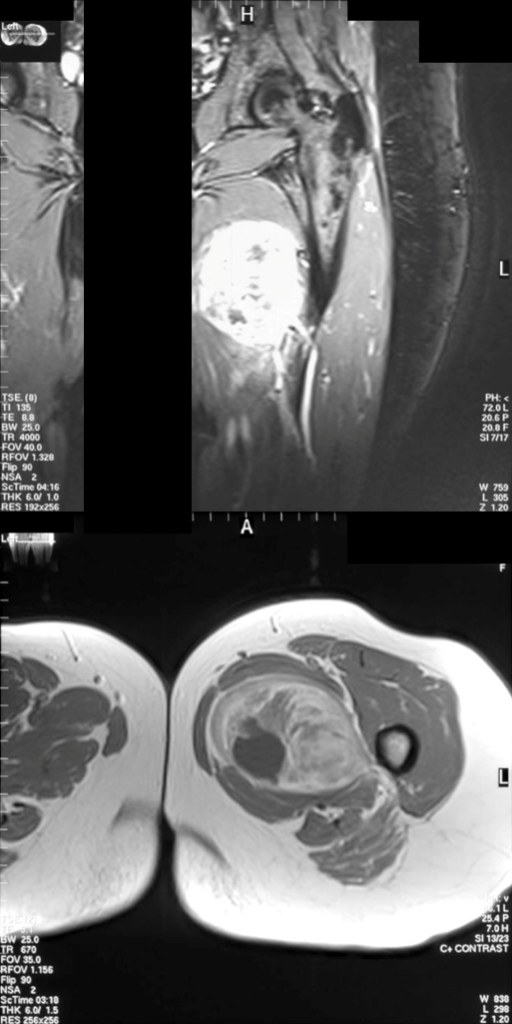 Sarcomas are "uncommon," but not "rare" malignant tumors, and a challenging diagnosis, with many "sub-types"; the incidence is approximately 10,000 to 15,000 per year for soft tissue sarcoma tumors in adults in the U.S. A sarcoma is the only solid tumor malignancy that can occur in any age and in any anatomic location, and as a result, an early accurate diagnosis is challenging. It is also important to make an accurate diagnosis within the first 3 – 4 months of the onset of pain in order to have effective timely treatment.
A patient's first diagnosis and first treatment are critical. It's very important to get confirmation from a sarcoma expert about your initial diagnosis and treatment plan. Failed initial treatment or delayed diagnoses can result in a poor result and aggressive tumors may not give the patient a second chance at treatment and a good result.
Our goal is to give kids and adults every opportunity for a "cure". Good providers are acutely aware that every patient visit represents a child, or a mom and dad, and all of their hopes for a healthy future. And the best chance at a good result happens with your first surgery and treatment. Most aggressive malignant tumors have an approximately overall survival of 50% at 5 years of follow up. Gratefully in general children (younger than 18 years) have the highest "survival" than adults. This 50% year survival is similar for aggressive malignant tumors of other sub-types.
A theme running through these blog posts will be hope because even aggressive sarcomas have new and effective treatments; novel chemotherapies, imaging (PET scans), surgery and radiation therapy all assist with effective treatment. Multidiscipline sarcoma clinics are typically dedicated to evaluate sarcoma patients for optimal treatment plans. Dedicated "Sarcoma Clinics" represent your best likelihood of good care for the unusual tumors.
New drug therapies and immunotherapy are now available to better manage high-grade tumors and we are making improvement in surgical treatment and local tumor control. Understanding the subtleties of sarcoma treatment and sarcoma "subtypes" is a critical part of making successful and effective tumor treatments.
Experienced sarcoma providers typically understand the best treatment choices for your care. If you have any doubt about your treatment options, I recommend that you get a second opinion to confirm your treatment plan before beginning your treatment. Your sarcoma provider needs to make effective treatment recommendations and being surrounded by a caring responsive nursing team with responsive communications.
As William Osler so aptly observed, "Your eyes see what your mind knows" and experienced eyes are an important ingredient for good care and good results.
***
Ernest "Chappie" Conrad, M.D., is Professor, Department of Orthopaedic Surgery, specializing in orthopedic oncology, at McGovern Medical School at The University of Texas Health Science Center at Houston (UTHealth).
A graduate of Washington and Lee University, Dr. Conrad completed medical school at The University of Virginia School of Medicine in Charlottesville, Virginia. He did his internship at Roosevelt Hospital in New York, New York, and his residency in orthopedic surgery at The Hospital for Special Surgery Sloan-Kettering Memorial Hospital Cornell Medical Center New York, New York. His fellowship in orthopedic oncology was under Dr. William Enneking at the University of Florida and an additional fellowship in pediatric orthopedics was completed under Dr. Mercer Rang at the Hospital for Sick Children in Toronto, Ontario.
After completing his fellowship in Toronto, Dr. Conrad joined the University of Washington School of Medicine and Seattle Children's Hospital in Seattle, where he pioneered the surgical treatment of sarcoma, as well as set the standards in assessing risk and response in sarcoma patients using Positron Emission Tomography (PET). His pioneering work in limb salvage surgery and novel treatment protocols continues.
Dr. Conrad's research interests include the imaging of sarcomas, the clinical and biologic description of hereditary multiple exostoses, and the documentation of adequate tumor surgical margins for sarcoma surgical resections.
Disclaimer- The treatment and clinical comments as well as statements made in the course of this Sarcoma Blog are intended for general information and not for specific patient recommendations and represents the clinical opinion of Dr Ernest U Conrad and does not represent Memorial Hermann Hospital, Children's Memorial Hermann  Hospital, The UT Health care system or McGovern Medical School. If you would like specific advise regarding your personal health care, please contact the Orthopaedic Oncology Clinic at UT Health at 713 486 5956 or your local healthcare provider.