Curriculum
Curriculum
Residents complete a 4-year program in combined anatomic or clinical pathology (AP/CP). At this time we do not offer individual AP or CP tracks. We offer a structured "core curriculum" consisting of introductory and advanced rotations in both anatomic and clinical pathology divided into blocks of four weeks. Senior residents are allowed a greater degree of flexibility in their schedules and have the opportunity to choose from a diverse selection of electives at our participating institutions.
Core curriculum: Our core curriculum is 52 blocks for AP/CP residents.
Typical first-year resident schedule: First-year AP/CP residents take a minimum of two blocks of autopsy, 4 blocks of general surgical pathology, one block of blood bank, one block of chemistry/immunology, one block of hematopathology, and one block of microbiology. The remaining two blocks are divided between CP and AP services.
Rotations: We offer rotations in several different institutions which provide for exposure to varied practice settings and patient populations. Most rotations are four weeks in length although some upper-level core rotations and some electives may be taken for periods of 2 weeks.
Autopsy: Our residents perform hospital autopsies for Memorial Hermann Hospital (MHH), Lyndon B. Johnson General Hospital (LBJGH), and the Harris County Medical Examiner's Office as a part of the Harris County Institute of Forensic Sciences (HCIFS). Our residents have many opportunities for conducting autopsies and never fail to acquire the 30 autopsies required by the American Board of Pathology. Residents completed a total of 129 autopsies in 2019.
Blood Bank/Transfusion Medicine and Hemotherapy: The blood bank rotation at MHH provides residents experience in interpreting antibody panel reports, working up transfusion reactions, investigating blood compatibility/incompatibility issues, and monitoring component usage. The blood bank service is thriving and performs many therapeutic plasmapheresis, RBC exchange and photopheresis procedures every week. Residents in their final month of blood bank spend some time at the Gulf Coast Regional Blood Center observing blood collection, preparation, and storage, and also spend a week on the hemotherapy consult service at Memorial Hermann Hospital.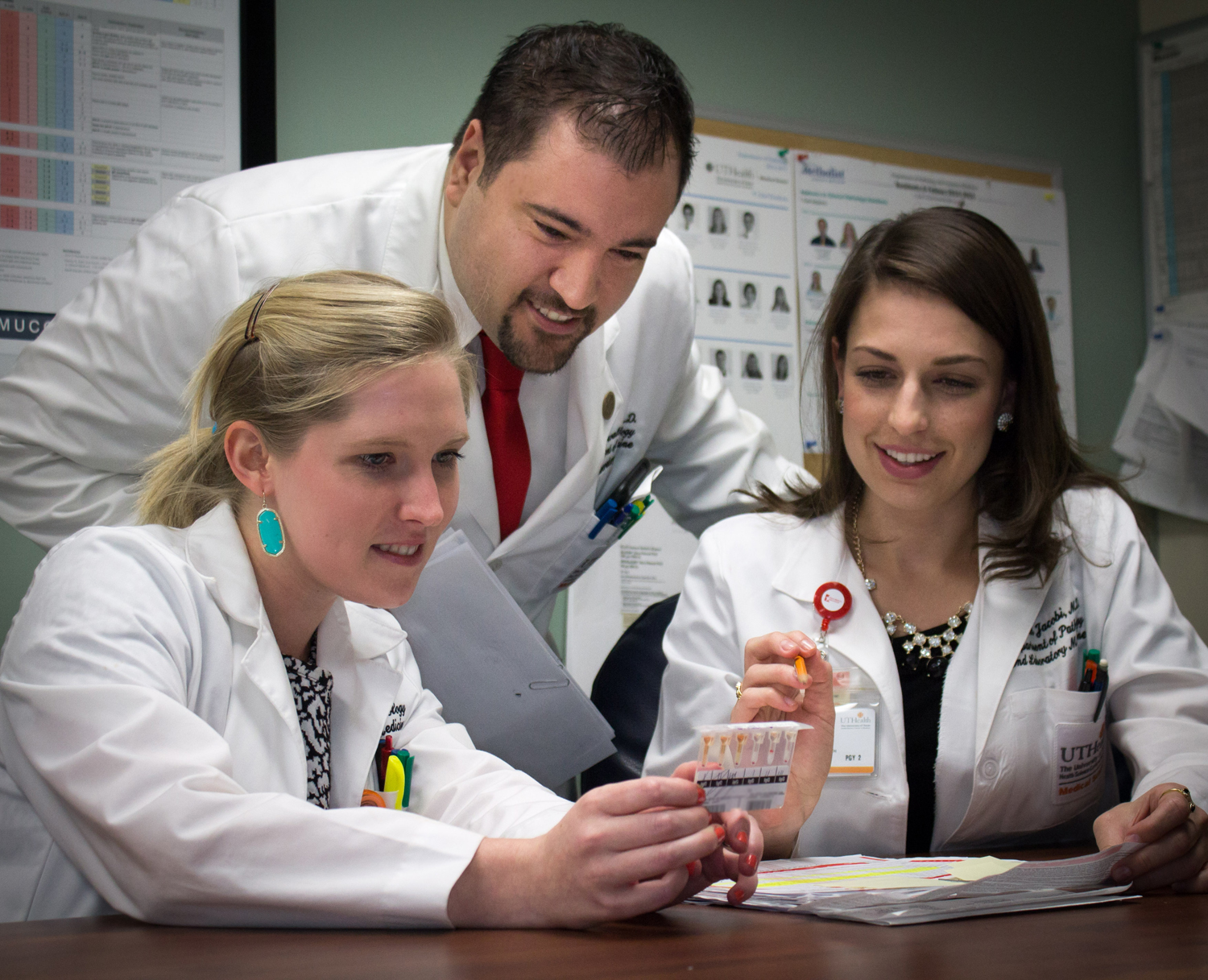 Chemistry, Immunology, and Coagulation: The chemistry and immunology rotation is combined at MHH. Residents spend mornings in the chemistry lab and also discussing various topics with the pathology faculty. Immunology sign-out, including gel interpretation, takes place in the immunology lab in the afternoons.
Cytopathology: Core cytopathology training occurs at MHH and LBJGH. Residents provide rapid assessment of specimens obtained by interventional radiologists and clinicians and sign out all types of cytologic preparations. Our residents assisted with approximately 2,500 FNA examinations in 2019.
Forensics: The rotation at the Harris County Institute of Forensic Sciences is a one block requirement for all AP/CP residents.
Hematopathology: Residents interpret bone marrow biopsies, sign out peripheral blood smears, body fluid smears, and lymph node biopsies, and interpret CBC's and flow cytometry studies. Core training takes place at MHH and LBJGH. The LBJGH CP rotation offers the experience of managing the entire clinical lab as a whole while also providing a very complete hematopathology training experience. On average the service examines approximately 600 bone marrows biopsies per year, and with an active oncology service this number continues to increase.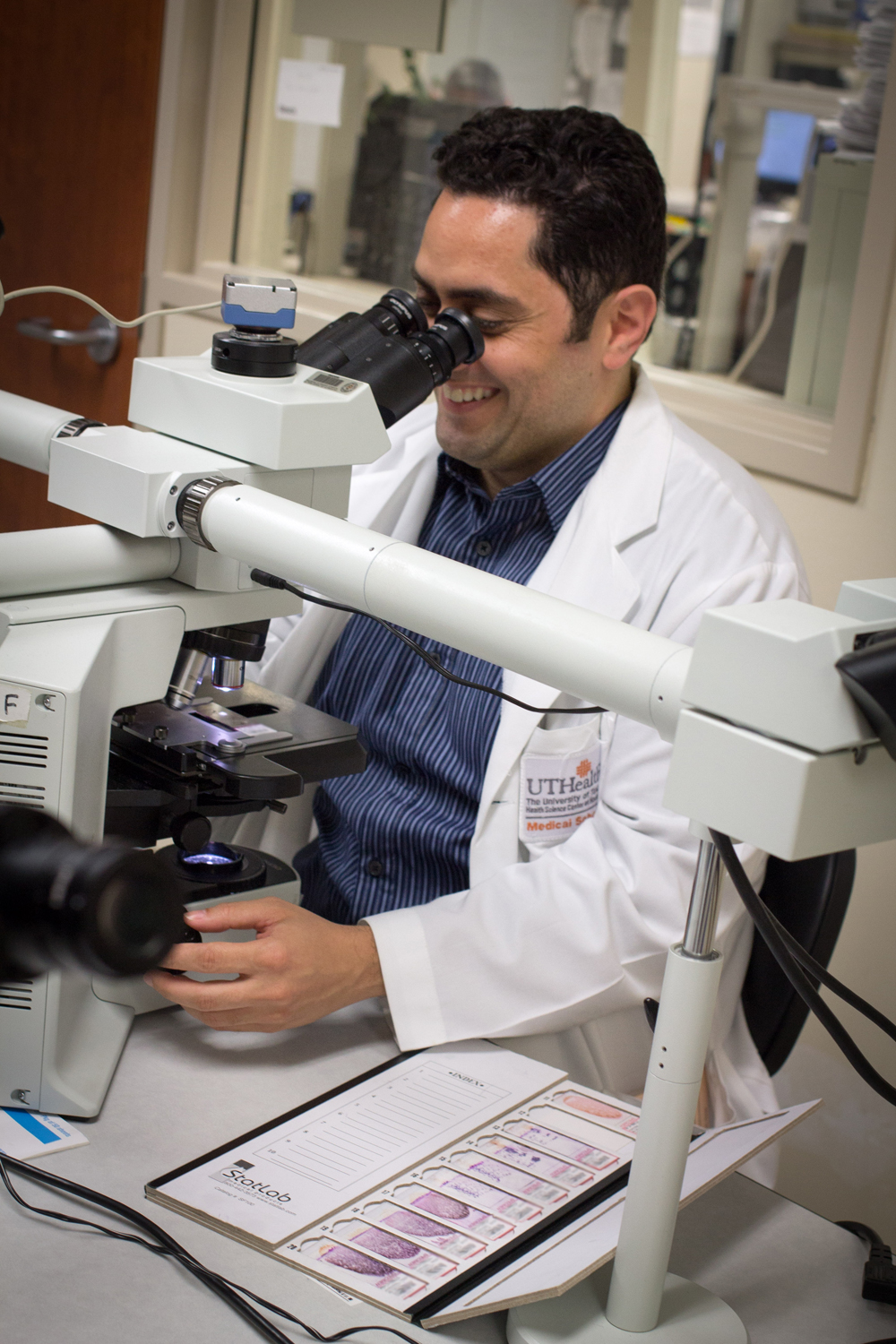 Microbiology: While on the MHH microbiology rotation, residents observe bench work, sit in on rounds with the infectious disease team, and discuss topics of medical microbiology. Once a week, residents and faculty have a joint micro conference with the CP residents at LBJGH.
Molecular and Genetic Pathology: All residents are required to spend at least one block learning about molecular diagnostics and cytogenetics. The cytogenetics and molecular component is held at M.D. Anderson Cancer Center (MDACC).
Surgical Pathology: Core training in surgical pathology is extremely diverse. Residents rotate through a University hospital (MHH) and a county community hospital (LBJGH). In addition, our department operates its own Outreach Lab which serves the Houston medical community. The residents' duties vary from day to day, encompassing grossing, frozen sections, biopsy sign-out, and surgical case sign-out. Pediatric surgical pathology at MHH is a separate rotation during which residents gain experience in diagnosing disorders of the placenta, fetus, neonate, and child. Renal pathology and neuropathology are also taken as separate rotations. These rotations in combination provide ample material for study and learning. Combined, these institutions process approximately 30,000 surgical specimens a year.
Electives: All residents have up to 6 blocks available for electives, which may be taken in AP or CP in any combination. Electives are offered at MHH, MDACC, and Houston Methodist Hospital in a broad spectrum of disciplines. Residents may use these rotations to focus on areas of specific interest or to gain advanced subspecialty training. Some residents dedicate time to electives in laboratory management, research, immunohistochemistry, or morphoproteomics.
Call: Call duties start as a first year resident who covers CP call during the day on weekends, totaling approximately 6 weekends total in the first year. Starting as second year resident's night call for both AP and CP services are covered from home one week at a time and residents can expect to cover 6 weeks of call per academic year. Residents work closely with on-call faculty and staff during these times and find it a very valuable part of pathology training.