Perfusion student earns national scholarship
---
---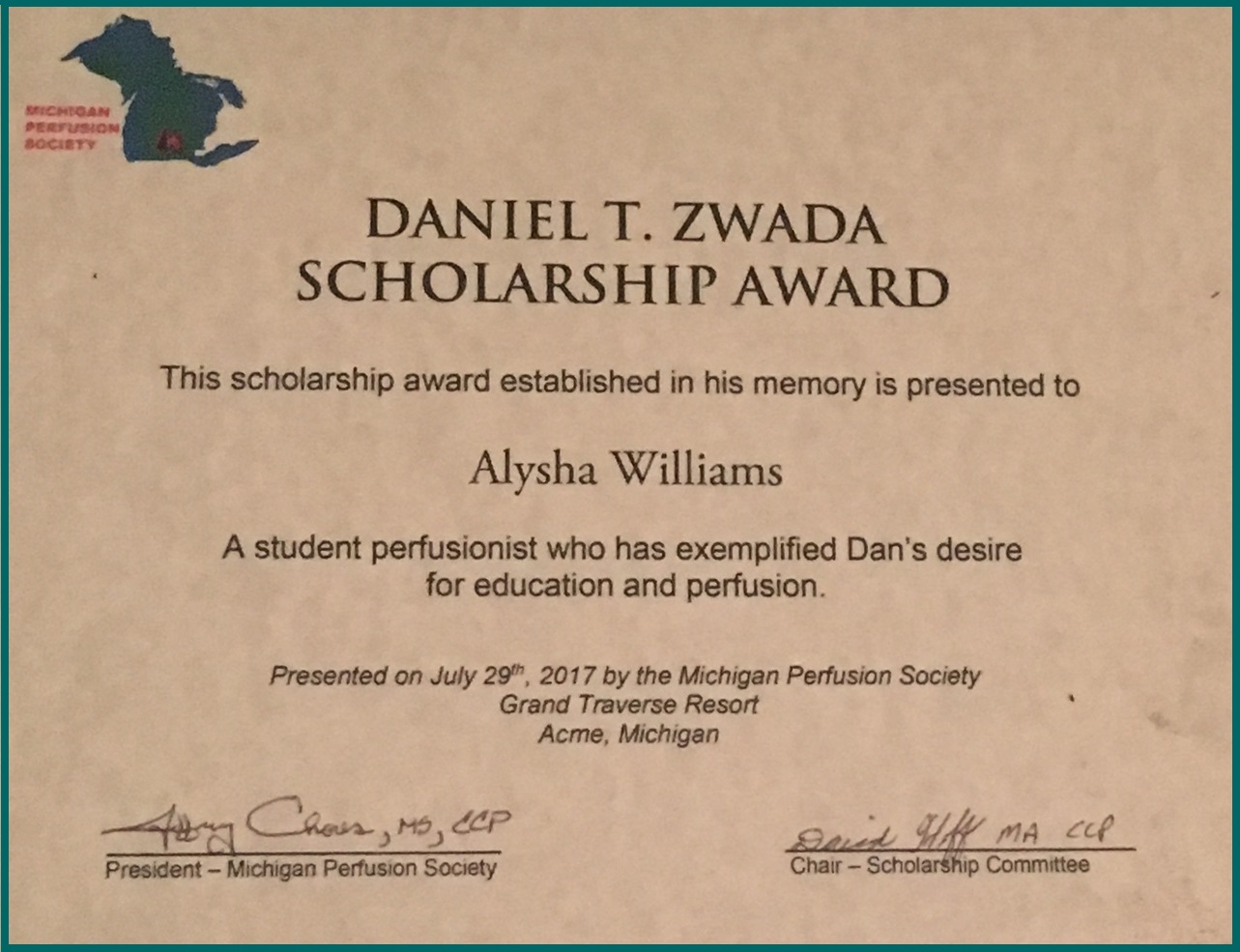 Perfusion trainee Alysha Williams is the recipient of this year's Dan Zwada Memorial Scholarship. With the knowledge base that she has gained regarding the perfusion profession and her skillful writing, Williams explained her passion for perfusion in her submission.
Established by the Michigan Perfusion Society, the $2,500 scholarship honors the memory of Daniel Thomas Zwada, mentor, instructor, and friend to most perfusionists in the state of Michigan who died unexpectedly in 2012. Each year, a national essay contest is held for perfusion students to answer why they are motivated to study perfusion.
"I believe that perfusionists are not only a part of progress, in regards to both science and medicine, but are also witness to certain recoveries that seem to be miracles. I believe that perfusion will provide me with an appropriate balance of faith and science that will enrich my life," wrote Williams in her winning essay.
"This scholarship in one of the highest in monetary value that gets awarded to a perfusion student, and it was open to all the students in the 17 perfusion programs in the country. I am very proud of Alysha and the Center for Advanced Heart Failure Perfusion faculty for the tremendous efforts in educating and molding our future perfusionists, "said Kirti Patel, UTHealth Cardiovascular Perfusion Program director.
Williams is half-way through the yearlong Cardiovascular Perfusion Program at McGovern Medical School. Originally from Phoenix, Williams lived in Portland, Oregon, for five years prior to starting the program in Houston and previously worked as a respiratory therapist.
"The scholarship will help my perfusion education in that it will allow me to focus more on my education rather than my stress over my finances," she said. "It will also allow me to pay for such things as conferences, which will enrich my education."
Williams will receive the award at the upcoming annual summer meeting of the Michigan Perfusion Society.
"This is an incredible accomplishment for both Alysha and for the program," said Eric Solberg, UTHealth vice president of academic and research affairs.
The Cardiovascular Perfusion Program at McGovern Medical School was established in 2015 and is affiliated with Memorial Hermann's Center for Advanced Heart Failure. A perfusionist is a member of the cardiovascular surgical team that operates the heart/lung machine, which artificially replaces a patient's heart or lung functions during surgery.
"I am motivated by the fact that my future career in perfusion will not only classify me as a necessary part of the team, but that I will also be a part of a profession that is constantly growing and that changes certain modalities based upon evidence of what is best for the patient," Williams added.
---