What is a Perfusionist?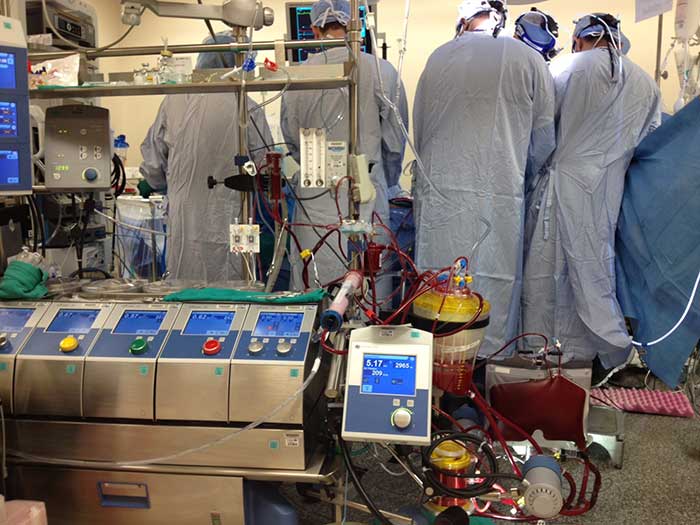 per·fu·sion·ist
A certified medical technician responsible for extracorporeal oxygenation of the blood during open-heart surgery and for the operation and maintenance of equipment (as a heart-lung machine) controlling it.
Source: Merriam-Webster Dictionary
---
pərfyo̅o̅′zhənist
Etymology: L, perfundere, to pour over
An allied health professional who assists in performing procedures that involve extracorporeal circulation, such as during open-heart surgery or hypothermia.
Source: Mosby's Medical Dictionary, 8th edition
---
per-fu´zhun-ist
A technologist who operates the heart-lung machine during cardiopulmonary bypass.
Source: Miller-Keane Encyclopedia and Dictionary of Medicine, Nursing, and Allied Health, 7th edition
---
pĕr-fyū'shŭn-ist
The operator of an oxygenator, such as the extracorporeal membrane oxygenator during surgery.
Source: Farlex Partner Medical Dictionary
---
Perfusionists are vital members of the cardiovascular surgical team. A perfusionist assists the team during various types of cardiac surgical procedures. His or her primary responsibility is to operate a heart/lung machine that artificially replaces a patient's heart or lung functions during surgery.

Perfusionists are responsible for:
Setting up, operating and maintaining complex perfusion equipment;
Monitoring circulation;
Regulating the levels of oxygen and carbon dioxide in the blood;
Regulating the body temperature;
Measuring laboratory values (i.e., arterial/venous blood gases, clotting times); and
Administering medication and blood products through the bypass circuit (under the supervision and direction of the anesthesiologist and surgeon)
Additional job responsibilities may include various administrative duties, such as purchasing supplies and equipment, managing the department they work in, and hiring support technicians when necessary.
Perfusionists should be people-oriented as they will be working with patients as well as working directly with the nursing staff, anesthesiologists, cardiac and pulmonary surgeons, surgical technicians and other allied health professionals.
A perfusionist is required to:
Concentrate for long periods of time while keeping a record of the patient's vital signs through the entirety of surgery;
Notify the surgeon immediately of any changes, and be prepared to respond quickly to the physician's requests;
Be detail-oriented, follow instructions thoroughly, and respond well to emergency situations; and
Work well under pressure, be able to work well independently, and assist with post-operative support concerning the patient