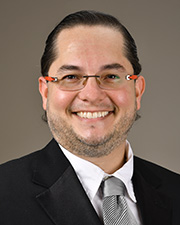 Juan Osorio, BS, CCP, LP, MIBA
Perfusionist, Cardiovascular Perfusion Program
Biography
Juan is originally from Barranquilla, Colombia. He came to the United States in early 2004 to continue with his college education. Following his passion for medicine, he graduated from Nova Southeastern University with a degree in biology in 2007. Immediately after, he got admitted in the Cardiovascular Perfusion Program at Barry University.
In 2009, he obtained his degree in cardiovascular perfusion and was given the opportunity to be part of the perfusion department at the University of Miami Hospital.
Being employed by Comprehensive Care Services, Inc. between 2013 and 2019, he had the privilege of becoming the cardiovascular perfusion director at Mercy Hospital. At the same time, he graduated with a master's degree in international business administration from Nova Southeastern University School of Business.
Combining all the experience and knowledge obtained from many years of perfusion practice in South Florida, Juan decided to become part of the perfusion team at UTHealth's Center for Advanced Heart Failure in 2020 with great expectations and a desire to mature even further. Nowadays, in addition to his duties as a perfusionist, he is actively participating with fellow staff in the development of the Perfusion Simulation Program in order to boost the skills of future perfusionists and to improve patient care.