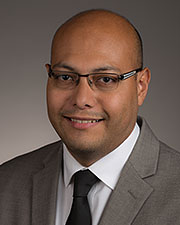 Harry Karmouty-Quintana, PhD
Assistant Professor, BCB Graduate Program
Biography
I previously trained in Montreal, Quebec at McGill University from 2006 to 2010 where I completed my first postdoc on airway smooth muscle remodeling in asthma. Prior to that I lived in Basel, Switzerland, where I pursued my PhD on "Experimental Pulmonary Diseases assessed by Magnetic Resonance Imaging", a joint venture with Novartis and King's College London (UK) where I graduated in 2006. Having spent a lot of time in cold countries, I was happy to move to Houston in May 2010 where I started as a postdoc and was promoted to Research Assistant Professor in September 2012. Other than lung diseases, I am interested in ocean life; I have a saltwater aquarium at home and I am a certified scuba diver! Originally from Barcelona, I may be hard to find if FC Barcelona is playing a champions league game or against Real Madrid!
Education
PhD

King's College London

Postdoctoral Fellow

McGill University, Canada
Areas of Interests
Research Interests
Mechanisms of pulmonary hypertension (PH) associated with chronic lung diseases such as chronic obstructive pulmonary disease (COPD) and idiopathic pulmonary fibrosis (IPF); Mechanisms of adenosine signaling and hyaluronan that lead to PH in chronic lung diseases.
Research Information
Mechanisms of Pulmonary Hypertension associated with Chronic Lung Diseases
Chronic lung diseases such as Chronic Obstructive Pulmonary Disease (COPD) and Idiopathic Pulmonary Fibrosis (IPF) are currently the 3rd largest killers in the US. An important and deadly complication of COPD and IPF is the development of Pulmonary Hypertension (PH). PH is a deadly disorder that is characterized by remodeling of the vasculature, increased blood pressure in the pulmonary circulation (>25mmHg) that results in right-sided heart attack and death. Currently, there are no treatments available for this disorder, in part due to our lack of understanding of the pathogenesis of PH in patients with chronic lung disease. Our research has identified the adenosine A2B receptor, a receptor that is elevated following conditions of cell injury and stress, and hyaluronan, a component of the lung extracellular matrix, as potential targets for the treatment of PH in chronic lung disease. Our research efforts are focused on uncovering the mechanisms of adenosine signaling and hyaluronan that lead to PH in chronic lung disease.
Publications
Publication Information