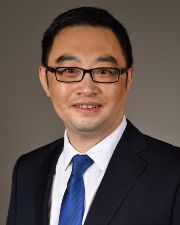 Contact
Biography
Dr. Zhiyong Yang is an assistant professor in the Ruiz Department of Ophthalmology and Visual Science at McGovern Medical School at UTHealth Houston. He received his medical degree at Harbin Medical University in Harbin, China. He earned his PhD in neuroscience at the University of Rochester School of Medicine and Dentistry in Rochester, New York, where he conducted research in developmental neuroscience of the retina. Following completion of his doctorate, he continued his research in retinal biology and diseases as a postdoctoral fellow at Wilmer Eye Institute of the Johns Hopkins University School of Medicine in Baltimore, where he received the Douglas Johnson Award for glaucoma research from BrightFocus Foundation.
He has clinical interests in macular degeneration, diabetic retinopathy, diabetic macular edema, myopic retinopathy, retinal vascular disease, retinal vein occlusion, retinal detachment, macular hole, epiretinal membrane, macular pucker, ocular trauma, and retinal surgery.
Dr. Yang completed residency training in ophthalmology at Shiley Eye Institute, University of California San Diego, where he was recognized with the Outstanding Knowledge and Academic Performance Award in 2018 and the Residency Teaching Award in 2019. Dr. Yang then completed his advanced specialty training in medical and surgical retina at Wilmer Eye Institute.
His research interests include age-related macular degeneration, retinal detachment, and other retinal degenerative diseases. He has authored articles in peer-reviewed journals, including Development, Developmental Biology, Investigational Ophthalmology and Visual Science, Proceedings of the National Academy of Sciences of the United States of America, Neuron, Human Molecular Genetics, Journal of Glaucoma, Experimental Eye Research, Ophthalmology, PloS One, and the American Journal of Ophthalmology, among others. He holds several patents for the treatment of retinal and neurodegenerative diseases.
Education
Medical Degree

Harbin Medical University, Harbin, China

PhD

University of Rochester School of Medicine and Dentistry, Rochester, New York

Postdoctoral Fellowship

Wilmer Eye Institute of the Johns Hopkins University School of Medicine, Baltimore

Residency

Shiley Eye Institute, University of California San Diego

Advanced specialty training

Wilmer Eye Institute of the Johns Hopkins University School of Medicine, Baltimore