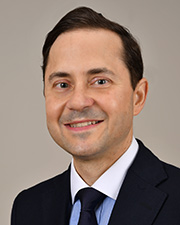 Professor
Director, Retina Division
Contact
(713) 486-9400
(713) 486-9592 fax

Biography
Dr. Sam S. Dahr received his medical degree at the University of Oklahoma College of Medicine in Oklahoma City and completed residency training in ophthalmology at the University of Cincinnati. He completed dual fellowships in medical retina and uveitis and ocular immunology at the National Eye Institute at the National Institutes of Health in Bethesda, Maryland, and returned to the University of Cincinnati, where he completed a vitreoretinal surgery and ocular oncology fellowship at the Cincinnati Eye Institute. He is a 2022 recipient of the Ed Calhoon, MD, Leadership in Medicine Award from the Oklahoma State Medical Association.
Since 2007, Dr. Dahr has served as the principal retinal consultant to the ophthalmic device division of the United States Food and Drug Administration for retina-related clinical trials, receiving a Certificate of Commendation for Public Service from the FDA in 2013. Separately, he recently completed a four-year term on the FDA Ophthalmic Devices Panel. He is currently serving a second term on the writing committee for the American Academy of Ophthalmology uveitis textbook.
Dr. Dahr serves as director of the retina division in the Ruiz Department of Ophthalmology and Visual Science and leads efforts to add retina and uveitis fellowship training to the department. He delivers clinic-based and surgical care for complex diseases affecting the back of the eye. He treats patients with diabetic retinopathy, macular degeneration, retinal detachment, epiretinal membrane, macular hole, and eye trauma, and has special interests in pediatric uveitis and Vogt-Koyanagi-Harada (VKH) disease.
Collaboration with Referring Physicians
Physicians at the Robert Cizik Eye Clinic engage referring physicians in the care of their patients, keeping them informed about patient progress throughout the evaluation and treatment process. After your patient's treatment, you will receive a summary and a plan for follow-up. We encourage continued communication about each patient.
The Robert Cizik Eye Clinic
6400 Fannin Street,
18th Floor
Houston, TX 77030
Education
MD

University of Oklahoma College of Medicine

Residency

University of Cincinnati

Fellowship

National Eye Institute at the National Institutes of Health

Fellowship

University of Cincinnati - Cincinnati Eye Institute