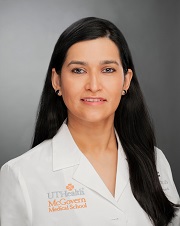 Anju Bhardwaj, MD, FACC, FHFSA
Assistant Professor, McGovern Medical School
Cardiologist, Advanced Heart Failure and Transplantation
Biography
Dr. Anju Bhardwaj is an assistant professor for the Department of Advanced Heart Failure at McGovern Medical School at the University of Texas in Houston. She graduated medical school from Government Medical College in India before she moved to the US for further training. After finishing her Internal Medicine Residency at St Joseph's University, she completed clinical & research fellowships at Harvard Medical School/Massachusetts General Hospital, Case Western Reserve University, and Baylor College of Medicine.
Dr. Bhardwaj is American board-certified in internal medicine, cardiovascular diseases, advanced heart failure and transplant cardiology, and echocardiography. She also did a modified fellowship in electrophysiology focusing on device therapy.
She is on the editorial board for Journal of Cardiac Failure, Journal of American College of Cardiology: Advanced, and JACC-Heart Failure. She is also a PI for 2 national registries and trial for novel devices in Heart Failure. 
With over 1800 citations, she is well-published in major Cardiology journals with high impact factors and has presented at various national and international conferences. She is also an active member of the American College of Cardiology, Heart Failure Society of America, International Society of Heart & Lung Transplant, and serves on various national and international committees. Her clinical and research interests include acute heart failure, cardiogenic shock, mechanical circulatory support, cardiomyopathies, and heart failure in women. She also runs Cardiac Amyloidosis and Sarcoid clinic at UT.
A doting aunt, and an avid Star Wars fan, she enjoys traveling, hiking, and spending time with her nephews. Her goal is to travel all around the world and climb all major hikes.
Education
Medical Education

Government Medical College

Residency

St. Joseph's Regional Medical Center

Fellowship

Massachusetts General Hospital

Fellowship

Case Western Reserve University

Fellowship

Case Western Reserve University

Fellowship

Baylor College of Medicine
Affiliated Centers