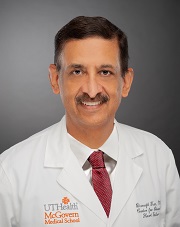 Professor, Internal Medicine, McGovern Medical School at UTHealth Houston,
Memorial Hermann (10) Chair, McGovern Medical School at UTHealth Houston,
Chief, Medical Division, Center for Advanced Heart Failure, Memorial Hermann Hospital
Biography
Dr. Biswajit Kar, M.D., earned his Medical Degree from the University of Pune Armed Forces Medical College in India. He completed a Residency in Internal Medicine at Baylor College of Medicine (BCM) in Houston where he was inducted into the Alpha Omega Alpha Honor Medical Society. Subsequently, he completed a Fellowship in Cardiology and Interventional Cardiology at BCM where he later served as a faculty member.
He currently serves as a Professor of Medicine in the Center for Advanced Cardiopulmonary Therapies and Transplantation (ACTAT) at McGovern Medical School at The University of Texas Health Science Center at Houston (UTHealth).  As well, Dr. Kar serves as Chief of the Medical Division of the Center for Advanced Heart Failure (CAHF) at the Memorial Hermann Heart & Vascular Institute in the Texas Medical Center.
Dr. Kar has been practicing medicine in the Houston area since 1995 and is Board Certified in Advanced Heart Failure and Transplant Cardiology, Cardiovascular Disease, Internal Medicine, and Interventional Cardiology. He specializes in cardiovascular disease, interventional cardiology, advanced heart failure, and heart transplantation. His clinical interests include advanced structural and complex coronary peripheral intervention and mechanical circulatory support for cardiogenic shock.
Patients value Dr. Kar's exceptional listening skills and his ability to explain conditions and clearly answer questions.
Dr. Kar is a member of the American College of Cardiology, American Society of Artificial Organs, American College of Physicians, Heart Failure Society of America, and International Society of Heart and Lung Transplantation. He has published over two hundred original articles and book chapters in a variety of nationally known medical journals.
Education
Medical Degree

Armed Forces Medical College, Pune, India

Residency

Baylor College of Medicine and Texas Heart Institute

Fellowship

Texas Heart Institute and St. Luke's Episcopal Hospital
Areas of Interest
Clinical Interests
Advanced heart failure, cardiac transplantation, mechanical assist devices, high-risk coronary interventions, structural heart disease, cardiogenic shock