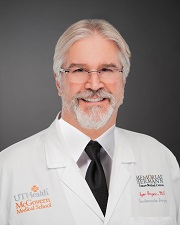 Igor D. Gregoric, MD, FACC
Chief and Program Director, Surgical Division, Center for Advanced Heart Failure, Cardiopulmonary Support and Transplantation Program, Memorial Hermann Heart & Vascular Institute-TMC
Professor, Program of Advanced Heart Failure, McGovern Medical School
Director of Research, Center for Advanced Heart Failure
Biography
Igor D. Gregoric, MD, FACC earned his medical degree and completed his internship at the University of Ljubljana in Slovenia. He was rewarded for his perseverance and hard work with a fellowship in cardiovascular and thoracic surgery training under the premier leadership of Dr. Denton A. Cooley at Texas Heart Institute. He completed residencies in general and cardiothoracic surgery at McGovern Medical School and Texas Heart Institute respectively.
Board-certified in thoracic surgery Dr. Gregoric has practiced medicine in Houston since 2000. He specializes in cardiothoracic and vascular surgery, mechanical circulatory support, and transplantation and his clinical interests include advanced heart failure and structural heart disease.
Dr. Gregoric currently serves as Chief and Program Director, Surgical Division, of the Center for Advanced Cardiopulmonary Therapies and Transplantation. He is also a Professor of Cardiothoracic and Vascular Surgery, Director of Research, Program Director of Adult ECMO, and Medical Director of the Cardiovascular Perfusion Program at UTHealth McGovern Medical School.
Dr. Gregoric is a Fellow of the American College of Cardiology and a member of the Society of Thoracic Surgeons, the American Association for Thoracic Surgery, the American Society of Artificial Internal Organs, and the International Society of Heart and Lung Transplantation. He has published over 400 original articles in medical journals as well as book chapters.
Education
Medical Degree

University of Ljubljana, Slovenia

Residency

McGovern Medical School

Cardiothoracic Surgery Residency

Texas Heart Institute

Fellowship

Vascular Surgery at Texas Heart Institute
Areas of Interest
Clinical Interests
Heart transplantation, mechanical circulatory support (acute and chronic), surgical treatment of advanced heart failure, minimally invasive and robotic cardiothoracic surgery, TAVR, arrhythmia surgery, pulmonary embolectomy surgery