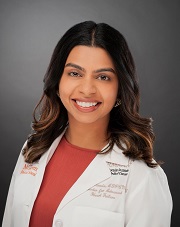 Nurse Practitioner - Acute Care
Biography
Neha earned her Bachelor of Science in Nursing at the University of Texas Health Science Center at San Antonio in 2011. After graduation, she began her career in nursing with neurosurgery and subsequently transitioned to cardiovascular surgery. She completed her Master in Science of Nursing at the University of Texas Medical Branch at Galveston in 2015. After graduation, she followed her passion for cardiology and began working at Memorial Hermann's Center for Advanced Heart Failure in 2016. She then went on and obtained her Post-Master Certification in AG-ACNP. Her clinical interests include structural heart disease, heart failure management, and management of left ventricular assist devices (LVADs).
Neha believes in encouraging and empowering patients to be involved in their own medical care and decision-making. She places emphasis on patient education and feels it is the cornerstone for successful patient outcomes.
Neha is currently a member of the American Association of Nurse Practitioners.