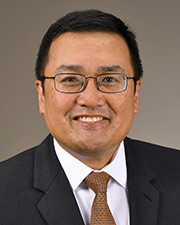 Anthony L. Estrera, MD, FACS
Chair
Professor
Medical Director, Cardiovascular ICU and Cardiovascular IMU, Memorial Hermann Heart & Vascular Institute
Hazim J. Safi, M.D. Distinguished Chair
Cardiothoracic Surgery
Vascular Surgery
Biography
Dr. Estrera is a Professor and Chair for the Department of Cardiothoracic and Vascular Surgery, Cardiothoracic Surgery Section, at the McGovern Medical School. He is a faculty member of many interacting medical facilities at McGovern Medical School. He is also Chief of Cardiac Surgery and Director of the Cardiovascular Intensive Care Unit at the Heart and Vascular Institute, Memorial Hermann Hospital – Texas Medical Center. He specializes in diseases of the aorta, specifically focused on thoracoabdominal aortic aneurysms and aortic dissection.
Dr. Estrera has been an integral part in building the department and the cardiovascular surgical service at McGovern Medical School. Dr. Anthony Estrera has authored and co-authored 35 book chapters and over 150 publications and peer-reviewed medical journals. His studies have led to refinements in surgical techniques for the treatment of thoracic aortic aneurysms and aortic dissection. In collaboration with Dianna Milewicz, M.D. Chief of Medical Genetics at The University of Texas Houston, their combined efforts have led to the identification of multiple genes associated with the etiology of thoracic aortic aneurysm and aortic dissection. Dr Estrera has lectured and conducted workshops worldwide which has provided integral training for cardiovascular surgeons.
He is a Fellow of The American College of Surgeons, a member of the American Association for Thoracic Surgeons, the Society of Thoracic Surgeons,and a member of DeBakey International Surgical Society, the Cardiothoracic Surgery Network (CTSNET), the Southern Thoracic Surgical Association, and Alpha Omega Alpha Honor Society. He is certified with both the American Board of Surgery and the American Board of Thoracic Surgery. Dr. Estrera also serves on the editorial board for the Annals of Thoracic Surgery and for The American Board of Thoracic Surgery.
Dr. Estrera is married and has 3 children.
Education
Medical Degree

University of Texas Southwestern Medical School, Dallas, Texas

Residency

Baylor College of Medicine, Houston, Texas

Residency

Chief Resident General Surgery, Baylor College of Medicine, Houston, Texas

Fellowship

Cardiothoracic Surgery, Baylor College of Medicine, Houston, Texas
Areas of Interest
Clinical Interests
Cardiothoracic Surgery, Vascular Surgery
Publications
Additional Information
Memberships
Fellow, American College of Surgeons
American Medical Association
DeBakey International Surgical Society
Cardiothoracic Surgery Network (CTSNET)
American College of Chest Physicians
American College of Cardiology
Society of Thoracic Surgeons
American Heart Association
Alpha Omega Alpha (AOA) Medial Society
Texas Surgical Society
Southern Thoracic Surgical Association
American Association for Thoracic Surgery
Honors
2015 Houstonia Magazine Top Doctors
2016 Houstonia Magazine Top Doctors
Board Certifications
American Board of Surgery
American Board of Thoracic Surgery