Advanced Aortic Surgery and Structural Heart Fellowship
The Advanced Aortic Surgery and Structural Heart Fellowship is a postgraduate training program established by the Department of Cardiothoracic and Vascular Surgery in the University of Texas Health Science Center, McGovern Medical School. The Fellowship offers specialized clinical and research training for advanced open and endovascular aortic surgery (including aneurysms and dissections) and Structural Heart surgical training including percutaneous valvular heart disease.
The clinical experience will be obtained at the Memorial Hermann- Heart and Vascular Institute, Texas Medical Center in Houston, TX.
The fellowship position for 2022-2024 has been filled. The next available positions will be for July 2024 start-times. Please continue to check back for future opportunities with the Department of Cardiothoracic and Vascular Surgery at UTHealth. 
Non-ACGME Advanced Aortic Surgery and Structural Heart Fellowship
Number of Positions: 2
Duration: 1 – 2 years
Location: McGovern Medical School, Cardiothoracic and Vascular Surgery Department, Houston, TX
Program Director: Rana Afifi, MD
Co-Program Director: Anthony Estrera, MD
Program Committee: Drs. Anthony Estrera, Rana Afifi
Objectives
Graduates of the Aortic/Structural Heart Fellowship will be well trained in both advanced aortic and structural heart surgery and will be capable of bringing these disciplines to his/her practice after completion of the fellowship.  The opportunity will provide the individual with training, education, and technical skills in the preoperative evaluation and planning, operative management (open and endovascular), postoperative care and follow-up of these patients.
The Fellow will participate in a collaborative environment that allows for a truly multidisciplinary approach to the care of each individual patient. This will occur in the setting of multidisciplinary conferences that will take place in a clinical and academic environment.  Here, research training is provided and fellow initiated projects are encouraged and supported.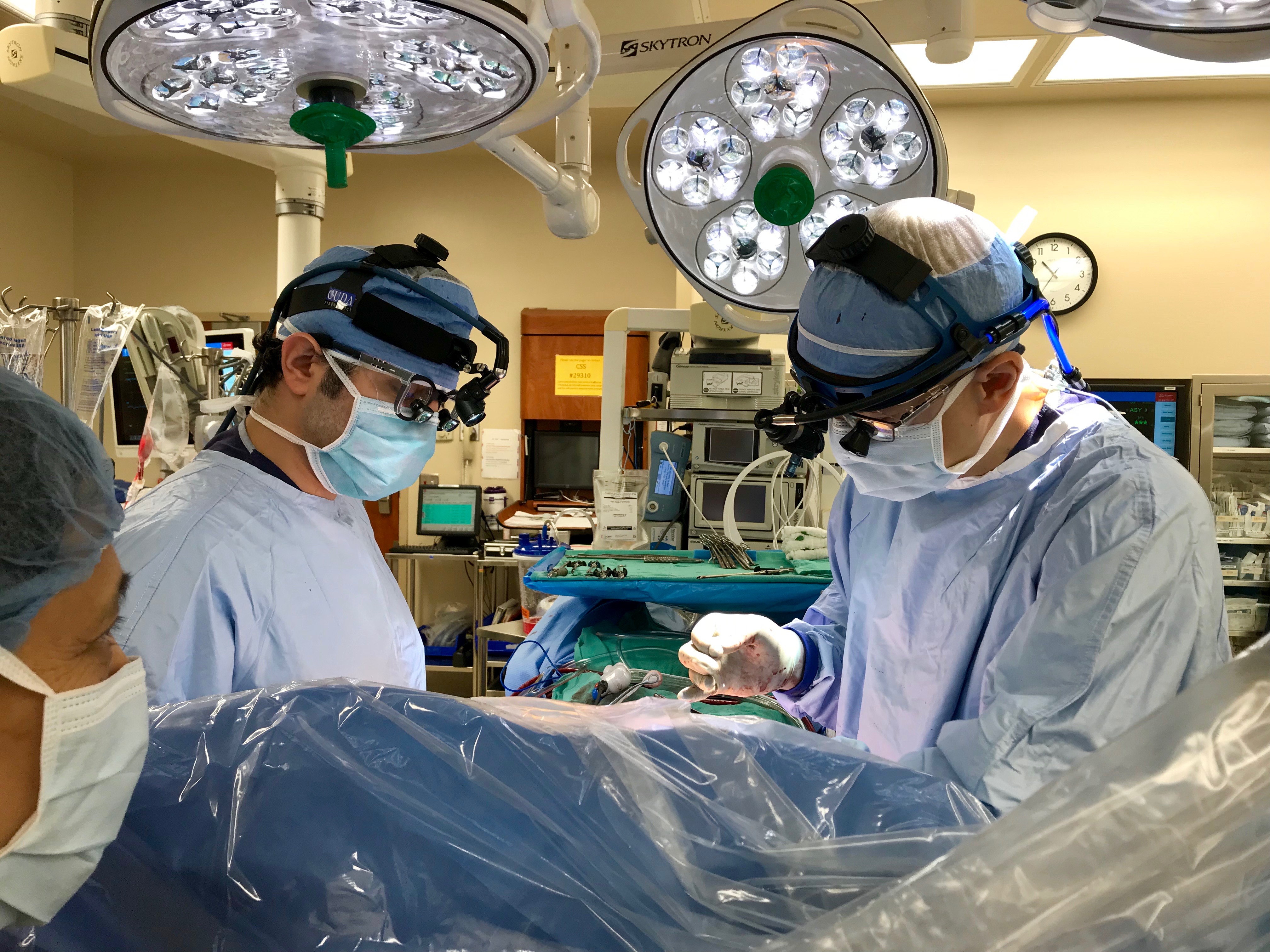 Eligibility Requirements
• Must have completed a minimum of three years of surgical training. Prior Vascular surgery and cardiac Surgery training is not mandatory but welcomed.
• Must be eligible for a license to practice medicine in the United States.
• Prospective Fellows must be proficient in spoken and written English
• The McGovern Medical School is strongly committed to diversity within its community and especially welcomes applications from visible minority group members, women, Aboriginal persons, persons with disabilities, members of sexual minority groups and others who may contribute to further diversification of ideas.
• All qualified candidates are encouraged to apply; however, the United States and permanent residents may be given priority.
Application Requirements
• Curriculum Vitae, including pre-medical, medial and post-medical school training, publications, certificates, awards and scholarships
• Letter of Interest
• Personal Statement
• Photo Identification
• Three letters of recommendation
• In person interviews or online video interviews will be coordinated
Application Process
• All applicants will be notified of the Program Committee's decision
Contact and Application Submissions
Dr. Rana Afifi
Co-Program Director
Advanced Aortic Surgery and Structural Heart Fellowship
Rana.O.Afifi@uth.tmc.edu
Pearl Adams
Educational Coordinator
Pearl.Adams@uth.tmc.edu
AorticEducation@uth.tmc.edu
Telephone: 713-486-5139
Fax: 713-512-7203
McGovern Medical School, Cardiothoracic and Vascular Surgery
6400 Fannin St. Suite 2850
Houston, TX 77030