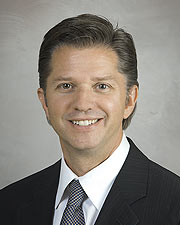 Gordon H. Martin, MD, FACS
Assistant Professor of Vascular Surgery, Department Of Cardiothoracic And Vascular Surgery At McGovern Medical School
Vascular & Endovascular Surgery
Aortic Aneurysms
Carotid Disease
Peripheral Vascular disease
Dialysis Access
Biography
Dr. Gordon Martin is an Assistant Professor at McGovern Medical School at The University of Texas Health Science Center at Houston (UTHealth).
Board certified in vascular surgery by the American College of Surgeons, Dr. Martin is experienced in surgical reconstruction, minimally invasive interventions, varicose veins and the medical management of vascular disorders. His broad background includes caring for conditions related to the following specialties: vascular surgery, endovascular therapy, peripheral vascular disease, aortic aneurysms, carotid disease and dialysis access.
Dr. Martin has been published on a number of occasions and has given presentations to audiences throughout the state of Texas on a range of topics, including carotid, aortic and visceral occlusive disease.
He is a member of the Society for Vascular  Surgery, American College of Surgeons, Society for Clinical Vascular Surgery, American Medical Association, Texas Surgical Society, Society of Baylor Surgeons, Texas Medical Association, Harris County Medical Society and Vascular Access Society of the Americas.
Education
Medical Degree

University of North Carolina School of Medicine, Chapel Hill, North Carolina, 1992

Internship

General Surgery, Baylor University Medical Center, Dallas, Texas, 1993

Residency

General Surgery, Baylor University Medical Center, Dallas, Texas, 1997

Fellowship

Vascular Surgery, Cleveland Clinic Foundation, Cleveland, Ohio
Areas of Interest
Clinical Interests
Vascular & Endovascular Surgery, Aortic Aneurysms, Carotid Disease, Peripheral Vascular disease, Dialysis Access
Publications
Additional Information
Memberships
Society for Vascular Surgery
American College of Surgeons (Fellow 10/11/01)
Society for Clinical Vascular Surgery
American Medical Association
Texas Surgical Society
Society of Baylor Surgeons
Texas Medical Association
Harris County Medical Society
Vascular Access Society of the Americas
Board Certifications
American Board of Surgery (General Surgery)
American Board of Surgery (Vascular Surgery)