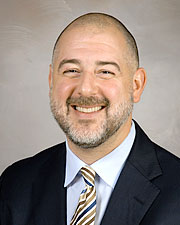 Philip A. Rascoe, MD, FACS
Associate Professor, Thoracic Surgery
Chief, Thoracic Surgery, Memorial Hermann Heart & Vascular Institute at Texas Medical Center
Thoracic Surgery
Video Assisted Thoracoscopic Surgery (VATS)
VATS Lobectomy
Lung Cancer, Esophageal Cancer
Minimally Invasive Esophagectomy (MIE)
Mediastinal Tumors
Minimally-invasive thymectomy
Chest wall tumors
Pleural disease
Mesothelioma
Hyperhidrosis
VATS sympathectomy
Biography
Philip A. Rascoe, M.D. is a cardiothoracic surgeon at Memorial Hermann-Texas Medical Center and Memorial Hermann Southeast Hospital, and an associate professor in the department of Cardiothoracic and Vascular Surgery at McGovern Medical School.
Board certified in cardiothoracic and general surgery, Dr. Rascoe earned his medical degree from Louisiana State University, and completed his general surgery internship and residency at McGovern Medical School. He performed a Thoracic Oncology Postdoctoral Fellowship at MD Anderson Cancer Center and a Cardiothoracic Surgery Fellowship at the University of Pennsylvania.
A Fellow of the American College of Surgeons, Dr. Rascoe is also a member of the American Board of Surgery, the American Board of Thoracic Surgery, the Society of Thoracic Surgeons, and the Association for Academic Surgery. With extensive experience in performing minimally-invasive operations for diseases of the chest, his clinical focus is on benign and malignant diseases of the lungs, mediastinum, pleura, trachea, and esophagus.
Education
Medical Degree

Louisiana State University School of Medicine, 2000

Residency

University of Texas Health Science Center, 2003

Residency

University of Texas Health Science Center, 2007

Residency

M.D. Anderson Cancer Center, 2005

Fellowship

University of Pennsylvania, 2009
Areas of Interest
Clinical Interests
Lung cancer
Esophageal cancer
Minimally-invasive lung surgery
Video-assisted thoracoscopic surgery (VATS)
VATS lobectomy
Minimally-invasive esophagectomy (MIE)
Mediastinal masses
Thymoma and thymic cancer
VATS thymectomy
Transcervical thymectomy
Myasthenia gravis
Chest wall tumors
Hyperhidrosis and VATS sympathectomy
Tracheal surgery
Pleural diseases
Mesothelioma
Pectus excavatum and carinatum
Substernal goiters
Long volume reduction surgery (LVRS) and bullectomy
Publications
Additional Information
Memberships
American Board of Surgery
American Board of Thoracic Surgery
Fellow, American College of Surgeons
Alpha Omega Alpha
The Society of Thoracic Surgeons
Association for Academic Surgery
Board Certifications
American Board of Surgery
American Board of Thoracic Surgery
Dr. Rascoe: Treatment Options