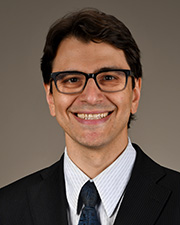 Danny Ramzy, M.D., Ph.D., FACC, FRCSC, FACS
Professor and Chief of Cardiac Surgery
Biography
Dr. Danny Ramzy is a globally recognized leader in the implementation of all forms of minimally invasive and robotic cardiac surgical interventions available today. His expertise includes various robotic procedures including robotic mitral repair and replacement; robotic coronary arterial bypass; robotic Maze procedures and well as right anterior thoracotomy aortic valve replacement, ascending aortic replacement and myectomies.
Dr. Ramzy is also a highly respected for his leadership in transcatheter approaches by his accomplishments in the field of TAVR and TMVR. Dr. Ramzy is also widely recognized for his leadership in mechanical circulatory support, with broad experience in the implementation of extracorporeal membrane oxygenation; left ventricular arterial support including Impella; and the total artificial heart. 
Dr. Ramzy's leadership in the development of new devices has led him to become an innovator in education, as well. Dr. Ramzy's innovations in minimally invasive, robotic, and transplantation methodologies has led to over 100 peer-reviewed publications and over 200 abstracts. Widely regarded for his editorial activity, Dr. Ramzy was named Reviewer of the Year for 2020 by the Annals of Thoracic Surgery in the field of adult cardiac surgery. He also serves as an editorial board member for The Journal of Thoracic and Cardiovascular Surgery.
Dr. Ramzy seeks to join with his distinguished colleagues in assuming the mantle of cardiac surgical leadership that originated in Houston, and to become a leading voice in the next generation of cardiac surgical interventions through his advocacy of minimally invasive, robotic, mechanical support devices and transplantation. As a leader in the Houston community, Dr. Ramzy's goal is to make the McGovern School of Medicine a leading center in the proliferation and normalization of minimally invasive and robotic surgeries.
Dr. Ramzy has devoted his career clinically, within research, and in teaching, to the proposition that the advantages of minimally invasive and robotic procedures offer less discomfort and faster recovery times for patients; greater efficiency for both providers and patients; and a higher standard of care for the next generation of patients and physicians alike. By joining the historic important University of Texas Houston medical community, Dr. Ramzy looks forward to working with his colleagues to have a transformative effect in advancing the latest minimally invasive and robotic methodologies for Houston and the entire state of Texas and beyond.
Education
Medical Degree

Doctor of Medicine, McMaster University, Hamilton, Ontario, Canada, 2000

Residency

General Surgery, University of Toronto, Toronto, Ontario, Canada, 2000-2008

Doctor of Philosophy

Medical Science, Institute of Medical Science, University of Toronto, Toronto, Ontario, Canada, 2002-2008

Residency

Cardiothoracic Surgery, University of Pennsylvania, Philadelphia, Pennsylvania, 2006-2008

Fellowship

Transplant and Mechanical Assist Devices, University of Pennsylvania, Philadelphia, Pennsylvania, 2010-2011

Fellowship

Aortic Surgery, University of Pennsylvania, Philadelphia, Pennsylvania, 2010-2011