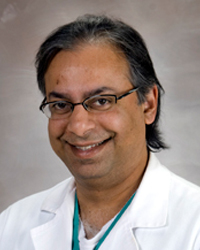 Brijesh S. Gill, MD, FACS
Biography
Born in Montgomery, AL, Brijesh "Billy" Gill has Alabama pride through and through. "It's a great place to live, with a real sense of community. It's a little slower-paced, but people are willing to help each other out," he says.
Gill came to McGovern Medical School largely due to Dr. Red Duke. "I used to watch him on TV and he was really inspiring. I also enjoyed watching MASH with the surgeon character Hawkeye Pierce – he was skillful and effective but also irreverent and he questioned authority."
As an engineering major in college, Gill discovered he didn't really like the computer and engineering businesses where he worked during the summers, so when he was a junior, he transferred his focus to being a surgeon.
For fun, Gill and his wife enjoy college football. He's an Alabama fan, and she's a UT diehard. He also likes snow skiing and camping. They recently completed a five day camping and hiking trip to Zion National Park.
If not a surgeon, Gill might pursue a career as a rock guitarist. He was a radio DJ in college and also played soccer all the way through his residency. He is working on his second startup company, focused on hemorrhage control and resuscitation.
Education
Undergrad

Harvard University, 1989-1993

Graduate

The University of Alabama School of Medicine, 1993-1997

Residency

General Surgery, The University of Texas Health Science Center at Houston, 1997-2003

Fellowship

Critical Care, The University of Texas Health Science Center at Houston, 2003-2004
Clinic Locations
Lyndon Baines Johnson General Hospital and Clinic
713-566-6145
5656 Kelley Street,
Houston, Texas 77026