Plastic & Reconstructive Surgery
Helping restore and reshape the human body.
---
We are training the next generation of plastic surgeons.

We are located in the heart of Texas Medical Center, and provide reconstructive and cosmetic surgical services to patients in the greater Houston area.
---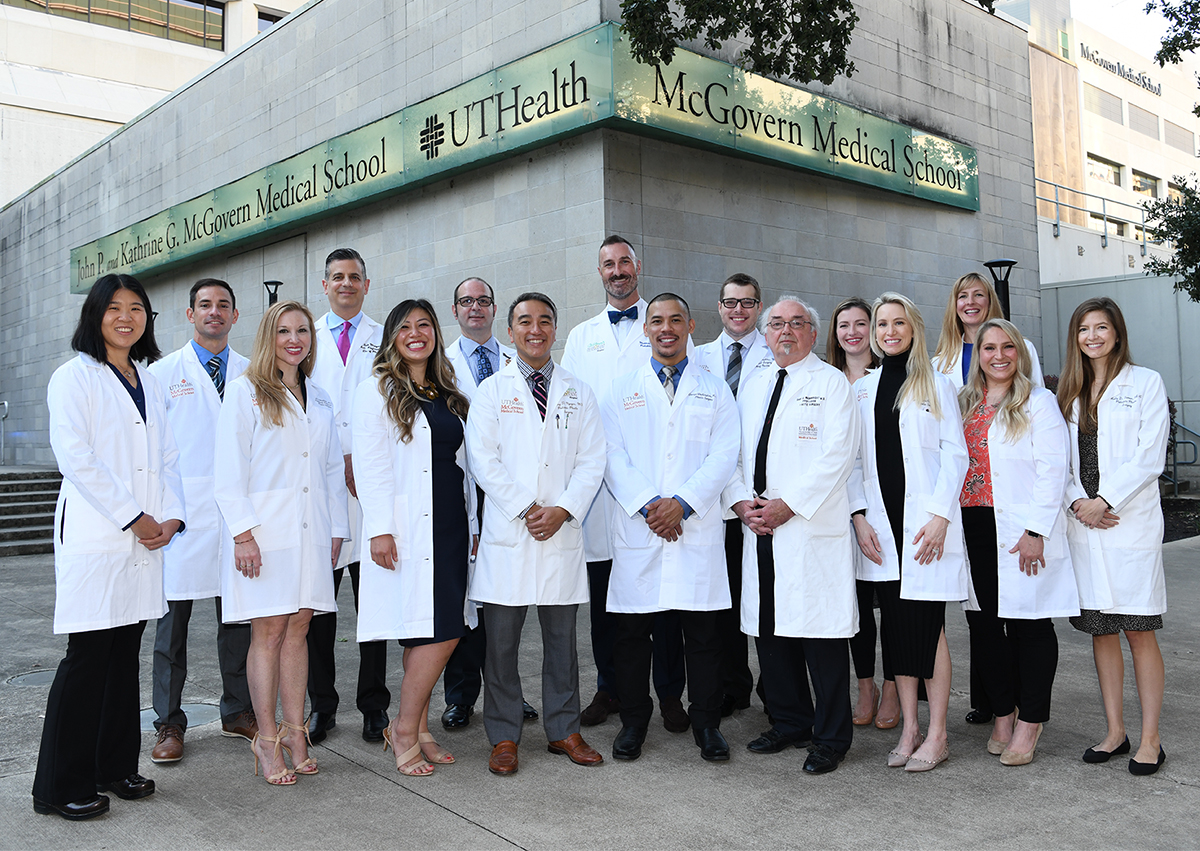 ---
The University of Texas Health Science Center at Houston, Division of Plastic and Reconstructive Surgery is committed to excellence in patient care in restoring and reshaping the human body. Located in the heart of the Texas Medical Center, the largest medical complex in the world, we offer a multi-disciplinary comprehensive approach with leaders in the field of medicine. All of our faculty are board certified or board eligible by the American Board of Plastic Surgery, ensuring the highest of quality and diligence. The Division is devoted to fulfilling the mission of UTHealth: educating health science professionals, discovering and translating advances in the biomedical and social sciences, and modeling the best practices in clinical care and public health. We are dedicated to training the next generation of plastic surgeons and offer a long-established plastic surgery residency. We also teach students from McGovern Medical School at UTHealth, the seventh largest medical school in the U.S. The field of plastic surgery truly encompasses head-to-toe, and our core faculty have specific expertise in each of these areas and operate at the following hospitals:
Sites:
Memorial Hermann-TMC Hospital, the main teaching hospital of UTHealth is the busiest Level I trauma center in the country.
Lyndon B. Johnson Hospital – the busiest Level III trauma center in the U.S., it represents a safety net hospital in the Harris Health System which cares for nearly 400,000 people in Harris County.
Children's Memorial Hermann Hospital – 310 bed quarternary care women and children's hospital located in the Texas Medical Center
Reconstructive Surgery: This involves restoration of form and function throughout the body. This may include repairing a defect that trauma or tumors may have inflicted, reconstructing a breast after mastectomy, reattachment of limbs and digits, putting back together the bones of a face, or gender affirming surgeries.
Microsurgery: This involves utilizing a microscope or magnifying glasses (loupes) to sew blood vessels and nerves together, allowing the surgeon to bring tissue from one part of the body to another. The sutures used are 1/3 the size of a human hair and these techniques require specialized training and expertise.
Craniofacial and Pediatric Plastic surgery: This includes treatment of anomalies of the face or head as well as other congenital diseases in children. This may range from craniosynostosis (premature fusion of skull bones), cleft lip and palate, jaw surgery, facial reanimation, vascular anomalies (including hemangiomas), and congenital nevi. The Texas Cleft-Craniofacial clinic is the longest-running collaborative cleft clinic in Houston, with 13 specialties offering coordinated expertise.
Hand surgery: This includes treatment of both acute and chronic problems such as injuries (soft tissue, tendon, and bone) in the hand, carpal tunnel surgery, brachial plexus repair, arthritis of joints in the hand and wrist, and congenital hand anomalies.
Breast surgery: This may include all forms of breast reconstruction, from implants and tissue expanders to using your own tissue (free tissue transfer). This also includes breast reduction or symmetry procedures. Finishing procedures may include nipple reconstruction or tattooing.
Cosmetic (or Aesthetic) procedures: This includes breast augmentation or breast lift (mastopexy), liposuction, face lifts, brow lifts, rhinoplasty, eyelid surgery, and abdominoplasty. Also, a variety of adjunct procedures such as botox, fillers, lasers, and dermabrasion are offered.
---
Our Specialties Include:
Breast Reconstruction
Hand Reconstruction
Aesthetics Cosmetic: Chief Resident Clinic
Limb Salvage/Extremity
Pediatric Cleft Program
Transgender "Gender Affirmation Program"
Abdominal Wall Reconstruction- MIST
Facial Reanimation
Vascular anomalies
Craniofacial
Burn Reconstruction
---
---