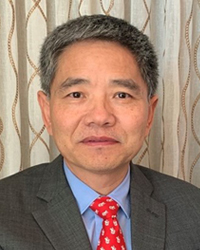 Professor
Cecil M. Crigler, M.D. Chair in Urology
Biography
Run Wang, MD, credits his research work in medical school for guiding him to the field of sexual medicine.
"I was involved in research regarding male infertility," said Dr. Wang, professor and chair of urology at McGovern Medical School. "This research not only stimulated my interest in urology, but also provided me with the opportunity to connect with the best urological andrologists in the world, Dr. Wayne Hellstrom and Dr. Ronald Lewis. They motivated me to explore the field of urological andrology and sexual medicine."
Dr. Wang is a leading expert in male urology, men's health and erectile dysfunction. He said it's the difference he makes in his patient's lives that keep him going and proud to be an urologist.
"I once received an email from a patient who I cured of sexual dysfunction," said Wang. "He said his wife would tell him, 'Dear, you know I love you more than anyone in the world, but right now I'm really loving Dr. Wang.'"
Dr. Wang is currently serving as president of the Sexual Medicine Society of North America.
Education
Graduate

MD, Southeast University Medical College, 1978-1983

Graduate

MS, Southeast University Medical College, 1983-1986

Internship

Surgery, Nanjing First People's Hospital, 1982-1983

Residency

Urology, Southeast University Medical College, 1983-1986

Internship

Surgery, Medical College of Georgia, 1997-1998

Residency

Urology, Medical College of Georgia, 1998-2002
Clinic Locations
UT Physicians Urology – Texas Medical Center
832-325-7280
6410 Fannin Street, Suite 2300
Houston, TX 77030
Directions