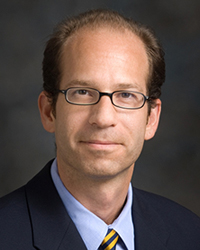 C.R. Bard, Inc. / Edward J. McGuire, M.D. Distinguished Chair
Chief, Division Of Urology
Professor, Department of Surgery
Biography
New Jersey native and graduate of Haverford College outside of Philadelphia, Steven Canfield never realized he belonged in Texas. After his residency at the Mt. Sinai School of Medicine in New York, he came to Houston to do his fellowship at MD Anderson Cancer Center. "I wasn't born here, but I got here as fast as I could," he now says. After living in Houston for over ten years, he finally got himself a pair of authentic cowboy boots, and he hasn't taken them off since.
Dr. Canfield's hobbies currently revolve around his kids and his family. His wife is an internal medicine doctor at Baylor College of Medicine. They have one daughter and two sons; as a group, they enjoy the beach and outdoor activities such as hiking and bicycling together. His children are all theatrical and performers, and they might have gotten that trait from their father, who used to be quite the performer himself. Now he limits his performances to the operating room. Unusual facts include his extensive puzzle box collection, and that he is an avid home mixologist.
Dr. Canfield's areas of research and clinical interest include teaching and promoting Evidence-Based Medicine in Urology, and Urology guidelines development. He has lectured and taught courses around the world and participated in the guideline process in the United States and Europe. His research interests in early and late-stage prostate cancer have also focused on personalized markers and innovative focal therapies to eradicate disease and preserve the quality of life.
His advice to trainees? "You need to be compassionate to be a urologist, and a great sense of humor helps. There can be a lot of hesitancy on the part of patients to bring up certain subjects in our field. Discussions about cancer also require sensitivity, compassion, and above all, honesty. I'm often asked if it's hard to tell someone they have cancer, and the answer is no – it's hard to be told you have cancer. If you remember that, you'll always connect with your patient."
Education
Undergrad

BS, Biology, Haverford College, 1988-1992

Graduate

MD, Jefferson Medical College, 1992-1996

Internship

Surgery, Mt. Sinai School of Medicine, 1996-1997

Residency

Surgery, Mt. Sinai School of Medicine, 1997-2002

Fellowship

Urologic Oncology, MD Anderson Cancer Center, 2002-2005

Fellowship

Robotic Assisted Radical Prostatectomy - Mini Fellowship, University of Pennsylvania, 2006
Clinic Locations
UT Physicians Urology – Texas Medical Center
832-325-7280
6410 Fannin Street, Suite 2300
Houston, TX 77030
Directions