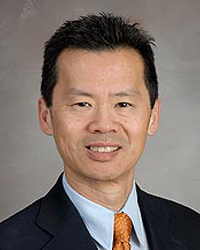 Professor
Division Director, Division of General Surgery/LBJ
Associate Dean for Harris Health Programs
Jack H. Mayfield, MD, Distinguished Professor in Surgery
Biography
California native Tien Ko is doing exactly what he wants to do in life. "From my first rotation in surgery at UCLA, all I wanted to do was operate," he says. Today, he is Chief of Surgery at Lyndon Baines Johnson General Hospital.
"This is the best job ever, and I wouldn't change a thing. I like fixing people and making a difference and an impact using scientific experimentation. It's a privilege. "
In his spare time, the father of triplet toddler boys skis and plays tennis. He gave up golf because it takes too long. "If you get one bad shot, you can never recover," he explains.
His advice to others? "Do what you love to do. Not a lot of people are fortunate to do what they want to do, so if it's in your power, make it happen."
Education
Undergrad

BS, Biochemistry, University of California, 1978-1982

Graduate

MD, School of Medicine, University of California, 1982-1986

Internship

General Surgery, Loyola University Medical Center, 1986-1987

Residency

General Surgery, Loyola University Medical Center, 1987-1991

Fellowship

Research Fellow, The University of Texas Medical Branch, 1991-1993

Fellowship

Postdoctoral Fellow in Department of Growth and Development, University of California, San Francisco, 1998-1999

Fellowship

Program for Chiefs of Clinical Services, Department of Health Policy and Management, Harvard School of Public Health, 2008
Clinic Locations
UT Physicians General Surgery – Texas Medical Center
832-325-7125
6414 Fannin Street, Suite G150
Houston, TX, 77030
Directions