David C. Hopkins, MD
---
Dr. Hopkins is excited to continue his plastic surgery training in Houston. He chose this program to continue his training in the busiest level 1 trauma center in the world. The experience with face and hand trauma provides an unparalleled educational experience. Paired with amazing faculty, Dr. Hopkins believes UTHealth Houston is one of the best plastic surgery programs in the country.
---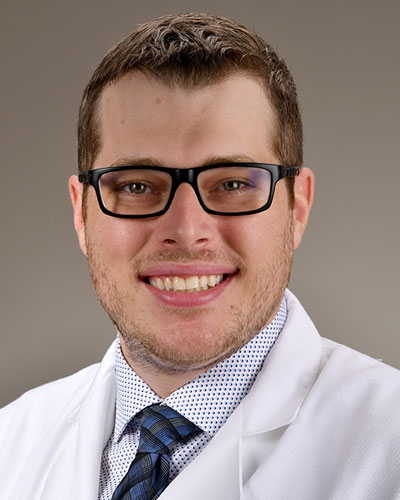 Undergrad – Baylor University
Med school – University of Texas Houston McGovern Medical School
General surgery residency – University of Texas Houston McGovern Medical School
Awards:
AOA
Phi Beta Kappa
Golden Chopsticks Award
Publications
Melin AA, Moffitt J, Hopkins DC, Shah MN, Fletcher SA, Sandberg DI, Teichgraeber JF, Greives MR. Is Less Actually More? An Evaluation of Surgical Outcomes Between Endoscopic Suturectomy and Open Cranial Vault Remodeling for Craniosynostosis. J Craniofac Surg. 2020 Jun;31(4):924-926. doi: 10.1097/SCS.0000000000006152. PMID: 32049919.
Usenko CY, Hopkins DC, Trumble SJ, Bruce ED. Hydroxylated PBDEs induce developmental arrest in zebrafish. Toxicology and Applied Pharmacology. 2012 Jul 1;262(1):43-51.
PRS Interests – Plan for academic style practice
Dr. David Hopkins MD is a plastic surgery resident at University of Texas-Houston Medical School. He is a first-generation college student who was raised in Azle, Texas. He attended Baylor University where he obtained his Bachelor of Science in Biology with Summa Cum Laude distinction and was elected in Phi Beta Kappa Honor Society. Dr. Hopkins then moved to Houston where he obtained his medical degree from UT Houston Medical school, during which he was elected into the prestigious Alpha Omega Alpha Society. He then remained with UT Houston for his residency in General Surgery. Dr. Hopkins was selected by faculty to receive the "Golden Chopsticks" award for excellence in laparoscopic and robotic techniques.
In his free time, Dr. Hopkins enjoys the spending time with his wife and siblings, 5 of whom practice medicine in Houston. He enjoys fishing, cooking, and raising his dog and two cats. Dr. Hopkins loves Houston which provides a limitless restaurant selection, a thriving theatre district, and a diverse selection for sports fans.