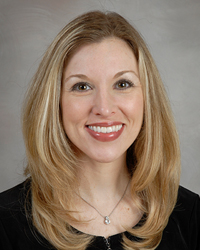 Christi Blakkolb, MD, FACS
Assistant Professor, Department of Surgery, Division of Plastic & Reconstructive Surgery
Biography
Dr. Christi Blakkolb is an Assistant Professor at University of Texas-Houston McGovern Medical School. She attended the University of Illinois at Urbana-Champaign where she earned a Bachelor of Science in Biology. Dr. Blakkolb received her medical degree from Loyola University Chicago Stritch School of Medicine. She then moved on to complete a General Surgery residency at The University of Texas Health Science Center Houston. Following this residency, Dr. Blakkolb completed an additional residency in Plastic and Reconstructive Surgery at the University of Alabama-Birmingham (UAB). She is dual board certified in General Surgery by the American Board of Surgery, as well as Plastic and Reconstructive Surgery by the American Board of Plastic Surgery and is a Fellow of the American College of Surgeons (FACS).
Dr. Blakkolb practices general plastic surgery, which includes both cosmetic and reconstructive procedures. She has a particular interest in breast and body surgery. This includes breast augmentation, reduction and reconstruction, as well as abdominoplasty, liposuction and post-bariatric body contouring.
In her free time, Dr Blakkolb enjoys spending time with her husband and their three young children. They enjoy traveling, spending time outdoors and working on their ranch.
Education
Medical School

Loyola University Chicago Stritch School of Medicine, 2005

Residency

University of Texas Health Science Center at Houston, 2010

Fellowship

University of Alabama Birmingham, 2012