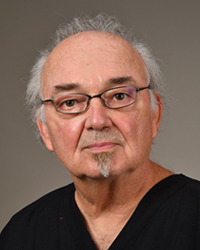 David J. Wainwright, MD, FACS
Professor, Department of Surgery, Division of Plastic & Reconstructive Surgery
Biography
Dr. Wainwright is a Professor of Surgery in the Division of Plastic Surgery. His interests encompass the entire spectrum of Plastic Surgery, ranging from aesthetic and post-bariatric / breast reconstructive surgery to procedures related to trauma, including burns and facial fractures. His clinical practice also includes hand surgery, burn reconstruction and the management of skin tumors and difficult wounds.
He was born and trained in Canada and came to Houston following a research fellowship at the Shriner's Burns Institute in Galveston Texas. His research interests include burn reconstruction, laser skin resurfacing and facial trauma. The training and education of future plastic surgeons is an important responsibility of all of the University of Texas faculty and his contribution focuses in the areas of reconstruction, facial injuries and aesthetic surgery.
His practice philosophy emphasizes patient communication and education to achieve the best possible clinical outcomes. He believes the best results in medicine come from the partnership of the surgeon with a well informed and knowledgeable patient.
Education
Medical School

University of Toronto, 1978

Residency

University of Toronto, 1984

Fellowship

Wellesley Hospital Ross Tilley Burn Centre, 1984

Fellowship

Scarborough General Hospital, 1985