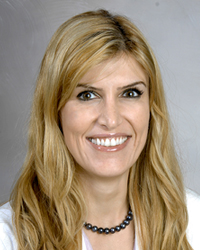 Assistant Professor, Department of Surgery
Biography
Dr. Ayoub received her Bachelor of Science and Medical Degree at The American University of Beirut (AUB) in Lebanon. She completed her residency in Urology at The American University of Beirut Medical Center.
Dr. Ayoub then completed a fellowship in Urinary Tract and Pelvic Reconstruction at The University of Texas MD Anderson Cancer in 2015.
Dr. Ayoub has authored several papers and chapters with a clinical focus on bladder dysfunction and complications of pelvic reconstructive surgery. Her main interests include female and male urinary incontinence, pelvic organ prolapse, urinary tract fistulas, neuromodulation for voiding dysfunction and continent urinary diversions.
Education
Undergrad

Bachelor of Science in Biology, American University of Beirut, 2001-2003

Graduate

Doctor of Medicine, American University of Beirut, 2003-2007

Residency

General Surgery Resident, American University of Beirut, 2007-2009

Residency

Resident in Urology, American University of Beirut, 2009-2015

Fellowship

Fellowship in Urinary Tract and Reconstructive Surgery, MD Anderson Cancer Center, 2013-2015
Areas of Interest
Clinical Interests
Female and Male Urinary Incontinence, Voiding Dysfunction, Pelvic Organ Prolapse, Urinary Tract Fistulas, Neuromodulation for Voiding Dysfunction, Continent Urinary Diversions
Clinic Locations
UT Physicians Urology-Texas Medical Center
832-325-7280
6410 Fannin Street, Suite 420
Houston, TX 77030