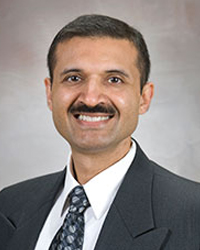 Kulvinder S. Bajwa, MD, FACS, FASMBS
Professor, Department of Surgery
Biography
Born in India, Dr. Kulvinder Bajwa came to Houston with his family when he was 11 years old. After graduating from Willowridge High School, he enrolled at University of Texas ("UT") Austin and studied engineering, later switching his majors to biology and zoology. "I think surgery now combines medicine and engineering – it's human engineering when you think about it," he says.
He also joined the Navy as a medic "on the side" while at UT. "Some people join fraternities – the military is the biggest fraternity in the world," he laughs. He will complete 30 years of service in the Armed Forces Reserve, first 5 in the Navy then the rest in the Army. He was promoted to Colonel in 2013 and is the Command Surgeon of the 75th Training Command in Houston, TX. He has received many awards and commendations over the years for his dedications to selfless service, both in the USA and during his 5 deployments since 2003 in support of various Department of Defense Campaigns.
For fun, Bajwa runs. "It's solace. It's time to think, ponder, figure things out. Sometimes I listen to music, but often I just listen to my footsteps." Favorite running music includes classic 80s Rock and Bollywood soundtracks. He also likes to travel but admits he doesn't get to do it often.
"Surgery is the joy of saving lives. The fiduciary responsibility is great – you've got to do the right thing the first time."
Education
Undergrad

BS, Zoology, B.A., Biology, University of Texas – Austin, 1986-1991

Graduate

MD, University of Texas Health Science Center San Antonio, 1991-1995

Internship

MD, Temple University, 1995-1996

Residency

General Surgery, Temple University, 1996-2000

Graduate

Medical and Healthcare Management, Rice University, 2006-2007
Clinic Locations
UT Physicians Minimally Invasive Surgeons of Texas (UTMIST)
713-486-1330
6700 West Loop South, Suite 500
Bellaire, TX 77401
Memorial Hermann Southwest Trauma Clinic – Medical Plaza I
713-456-5709
7777 Southwest Frwy
Houston TX 77074