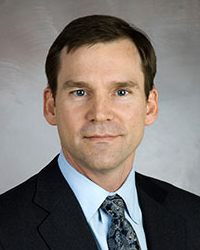 Associate Professor, Department of Surgery
Biography
Todd Wilson specializes in minimally invasive surgery.  An Air Force brat, he grew up in Iran, Libya, Germany, Louisiana, Ohio and spent eight years in Port Neches, TX, before going to Annapolis for undergrad. His father was a news producer for the Air Force, later joining KHOU in Houston as a news producer.
For five years, Wilson was a Surface Warfare Officer in the U. S. Navy, first in the Mediterranean and later in the Persian Gulf as part of the Air Defense team.
"I went into medical school with an open mind and was more attracted to surgery than anything else. The one thing I like about minimally invasive surgery is its embrace of technology," he says.
This self-described "project guy" built all his own furniture in his house, and even reupholstered everything himself.
"If I were not a surgeon, I would own a software company. I have a knack for picking up software languages and I like processes and procedures," he adds.
Mission? "Our job is to graduate surgeons who are as technically proficient as any surgeons anywhere."
Education
Undergrad

BS, Chemistry, United States Naval Academy, 1994

Graduate

MD, UTHealth McGovern Medical School, 2003

Residency

General Surgery, UTHealth McGovern Medical School, 2003 - 2008

Fellowship

Minimally Invasive and Elective General Surgery, UTHealth McGovern Medical School, 2008 - 2009
Clinic Locations
UT Physicians Minimally Invasive Surgeons of Texas (UTMIST)
713-486-1330
6700 West Loop South, Suite 500
Bellaire, TX 77401