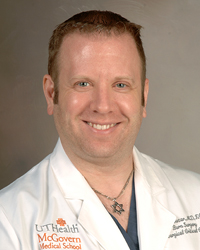 Associate Professor, Department of Surgery
Biography
Burn surgeon Todd Huzar is a Long Island native who got his bachelor degree from SUNY Binghamton and did his residency at NY Methodist.
Huzar was an EMT for three years and volunteer firefighter for nine years on Long Island. "But there was only so much I could do as an EMT, so I decided to go to medical school," he says. "And as far as burns are concerned, well, that had something to do with being a fireman."
For fun, Huzar does semi-competitive shooting at a gun range. He's trying to get up to competition level.
"If I wasn't doing this, I would be a fireman instead. There's nothing cooler than breaking through a wall and pulling a person out. Plus, I can cut a car in half in 30 minutes."
Education
Medical School

St. George's University School Of Medicine, 2003

Residency

New York Methodist Hospital , 2008

Fellowship

U.S. Army Institute of Surgical Research, Brooke Army Medical Center, 2010

Fellowship

University of Texas Health Science Center at Houston, 2011