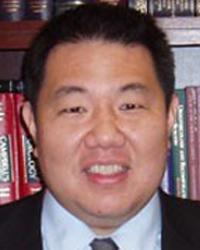 Associate Professor, Department of Surgery
Biography
Dr. Shu received his medical degree from The University of Texas Medical Branch in Galveston, where he also completed his residency in general surgery. Dr. Shu completed three fellowships:
Endourology / minimally invasive surgery and robotic surgery (Baylor College of Medicine)
Prostate, kidney and bladder cancer (Baylor College of Medicine)
Urologic oncology with an emphasis on bladder and testicular cancer (Taipei Medical University in Taipei, Taiwan).
Dr. Shu is board certified and specializes in urologic oncologic diseases. He is the director of endourology and minimally invasive surgery at the Vanguard Urologic Institute, and is a clinical assistant professor of urology at Baylor College of Medicine.
Fluent in Chinese, Dr. Shu sees patients of all ages. His clinical interests include minimally invasive surgery, robotics, kidney, prostate and bladder cancers, kidney stones, infections and other benign urologic conditions such utero pelvic junction obstruction. He has extensive experience in minimally invasive surgical approaches using laparoscopy, endoscopy, the da Vinci surgical robot and single incision laparoscopic / robotic surgeries – techniques that typically result in less scarring, less blood loss and quicker return to normal activities.
Dr. Shu was the first in Texas to perform single site laparoscopic radical nephrectomy. He has authored more than four dozen medical articles and is a member of numerous professional medical organizations.
Dr. Shu is a firm believer in open communication with his patients and even draws pictures to better explain the what and why of their condition or disease process. Dr. Shu believes this kind of education helps his patients feel less anxiety about their next steps, which will ultimately help their recovery. He goes out of his way to make sure his patients know that everything will be okay.
He enjoys spending time with his wife and daughters and playing a good game of golf.
Education
Medical Education

University of Texas at Galveston - Registrar, 1996

Internships & Residency

University of Texas at Galveston, 2002

Fellowship

Baylor College of Medicine - Registrar, 2004

Fellowship

Taipei Medical College, 2005
Areas of Interest
Clinical Interests
Robotic Assisted Surgery, Robotic-Assisted Radical Prostatectomy