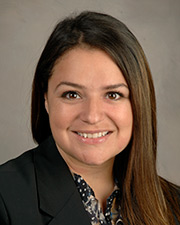 Yolanda R. Villarreal, PhD
Assistant Professor
Vice Chair, Diversity and Inclusion
Biography
Dr. Yolanda R. Villarreal is an Assistant Professor within the Department of Family and Community Medicine. She is a clinical social worker and specializes on developing, enhancing, implementing and testing prevention and intervention strategies targeted at improving mental and physical health outcomes while reducing risk behaviors associated with substance use (i.e. opioids and other illicit drugs, tobacco and alcohol) among indigent and underserved populations. Dr. Villarreal has over 13 years of experience serving on National Institutes of Health funded epidemiological and clinical studies and specializes in utilizing mixed qualitative and quantitative methods to adapt and administer interventions for vulnerable and often hidden populations. Most recently she has contributed effort on a National Institutes of Drug Abuse funded clinical trial administering an adapted Motivational Interviewing and Acceptance and Commitment Therapy intervention for mothers who recently delivered an infant exposed to illicit substances prenatally to link them with existing substance use treatment and reproductive care.
Dr. Villarreal currently serves as Clinical Coordinator and Quality Assurance Monitor for two National Institute on Drug Abuse funded pharmaceutical and behavioral trials. She is trained in multiple behavioral therapies including Problem Solving Therapy , Motivational Interviewing, and Acceptance and Commitment Therapy. Dr. Villarreal is an active member of the Society for Teachers of Family Medicine, Association for Contextual Behavioral Science, The Council on Social Work Education and the National Hispanic Science Network.
Dr. Villarreal has been awarded the National Institute of Mental Health's Minority Fellowship via the Council on Social Work Education. As well as a Diversity Supplement funded by the National Heart Lung and Blood Institute. At the UTHealth McGovern Medical School Dr. Villarreal serves on multiple committees, as well as the Faculty Senate. She has mentored residents, graduate students and medical students and teaches behavioral science to 3rd year medical students during their Family and Community Medicine clerkship.
Education
Doctorate of Philosophy

University of Houston, College of Social Work, Houston, TX 2014

Master in Social Work

University of Houston, College of Social Work, Houston, TX 2008
Areas of Interest
Research Interests
Behavioral health based intervention (i.e. Motivational Interviewing, Acceptance and Commitment Therapy, Mindfulness); clinical trial; intervention adaptation (e.g. partner and familial inclusion, cultural relevance); mental health and substance use (i.e. tobacco, alcohol, and drugs).
Teaching Interests
Cultural competency, diversity and oppression; macro community practice; social work with hidden populations; quantitative and qualitative research methods; experimental research design; social welfare policy; substance use; health disparities.