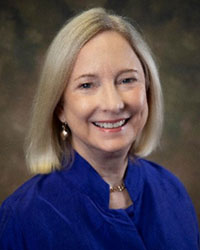 Anne H. Dougherty, MD, FACC, FHRS, FAHA
The Ten Broeke Family Foundation Professor of Medicine, Cardiovascular Medicine
Director, Cardiac Electrophysiology Fellowship
Vice President , Human Research Protection Programs
Cardiac Electrophysiology
Biography
Dr. Dougherty serves as the ten Broeke Family Foundation Professor of Medicine at the McGovern Medical School and Vice President for Human Research Protection Programs at UTHealth.  She graduated Phi Beta Kappa from the University of North Carolina with the highest honors. She received her medical degree and completed her residency training at The University of Texas Medical Branch in Galveston. Dr. Dougherty completed her cardiology and electrophysiology fellowship training at the McGovern Medical School at UTHealth, following which she joined the faculty and was promoted to professor of cardiology in 2001.  She is board certified by the American Board of Internal Medicine in Internal Medicine, Cardiovascular Disease, and Cardiac Electrophysiology.  Her clinical and research interests center on the management and treatment of cardiac arrhythmias.
Dr. Dougherty served as Director of Cardiac Electrophysiology from 2001 – 2015 and subsequently as the Cardiac Electrophysiology Fellowship Director.  In addition to teaching at the bedside for medical professionals of all levels, she delivers the cardiac arrhythmia curriculum for medical students at the McGovern Medical School and participates in the Ethics and Professionalism program. She has been an active co-investigator in pivotal clinical arrhythmia trials, including DAVID, DAVID II, VEST Predicts, and CABANA trials.  Dr. Dougherty is the author or co-author of 38 peer-reviewed abstracts, 37 original articles, and 62 invited articles and book chapters.
Long an advocate of responsible clinical research and the rights and welfare of human research participants, Dr. Dougherty has promoted proportionate representation of women and underserved populations in clinical research trials. She is the Executive Chair of the Committee for the Protection of Human Subjects (CPHS). In 2011, she assumed the role of Institutional Official and Vice President for the Human Research Protection Programs at UTHealth.  The COVID-19 pandemic presented novel challenges to research oversight in the context of rapidly emerging data and clinical needs.  To provide patients with the most promising investigational studies and therapies while managing competing studies in such a way as to promote successful completion, she organized a quick-response centralized pre-review process to assess scientific merit, feasibility, and safety as real-time gatekeeping factors for competing studies being conducted in clinical units.  With this measure, UTH researchers were better able to complete enrollment in the most promising COVID clinical trials in a timely fashion.
Dr. Dougherty is the recipient of many honors and awards, including Alpha Omega Alpha Honor Society,  YWCA Outstanding Women of Achievement—Medicine, Science, and Technology Award, and American Heart Association's Robert J. Cruickshank Volunteer of the Year and Paul Dudley White Awards.  She is the past president of the Houston Cardiology Society and the Houston Electrophysiology Society, as well as the American Heart Association Houston Division Board of Directors.  She has served on numerous committees and advisory panels of the American College of Cardiology, the Heart Rhythm Society, and the American Heart Association.
Education
Medical Degree

University of Texas Medical Branch, Galveston, TX

BA

University of North Carolina, Chapel Hill, NC

Internal Medicine Residency

University of Texas Medical Branch, Galveston, TX

Cardiology Fellowship

University of Texas Health Science Center at Houston, Houston, Texas

Cardiac Electrophysiology Fellowship

University of Texas Health Science Center at Houston, Houston, Texas
Areas of Interest
Clinical Interests
Her clinical interests include electrophysiology, pacing, defibrillation and ablation of cardiac arrhythmias.
Publications
Board Certifications
American Board of Internal Medicine
American Board of Internal Medicine – Cardiovascular Disease
American Board of Internal Medicine – Clinical Cardiac Electrophysiology