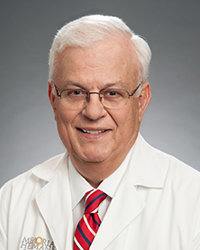 Atilla Ertan, MD, FACP, AGAF, MACG
Professor, Gastroenterology, Hepatology and Nutrition
Biography
Dr. Atilla Ertan earned his medical degree in 1963 from the Ankara University Medical School in Turkey. Following completion of his fellowship in Gastroenterology at the Hospital of the University of Pennsylvania in 1971, he was professor of medicine at the Tulane University School of Medicine in New Orleans from 1980-90 where he was named Chief of the Gastroenterology Section from 1984-90 and Interim Chairman of Medicine Department from 1988-90. Then, he was Chief of the Gastroenterology Section at the Methodist Hospital/ Baylor College of Medicine from 1990 to 2001. He is a Clinical Professor of Medicine at both Baylor College of Medicine as well as Weill-Cornell Medical College. He is now professor at the University of Texas Health Science Center at Houston (UTHealth) and Medical Director of the Gastroenterology Center of Excellence and Digestive Disease Center at the Memorial Hermann Hospital-Texas Medical Center.
Dr. Ertan has achieved national and international recognition as an outstanding clinical scientist, educator, researcher, and administrator in the field of gastroenterology. He has published over 160 articles in peer review journals, book chapters, books, and has received numerous awards and honors. He received the Medicine Science Award of 1992 by the Turkish Science and Technology Research Assembly, 1996 Best Gastroenterologist Award by the Crohn's and Colitis Foundation of America, and the 2003 Distinguished Clinician Award  by the American Gastroenterology Association (AGA). In October 2003; he received the Master in Gastroenterology Award from the American College of Gastroenterology (ACG) and the Fellow by AGA in 2007. He has been named to the Top Doctor's in Houston and in the U.S. since 1995.
Dr. Ertan has been active in various national and international gastroenterology societies. For many years he served on the AGA's Education Committee (1994-97), the International Liaison Committee (1999-03), the ACG's International Relations Committee (Chair, International GI Training Subcommittee, 1994-98) and the Educational Affairs Committee (Chair 1999-01). He currently serves on the Editorial Boards of five different medical journals.
Dr. Ertan has a special interest and experience in the diagnosis and management of patients with inflammatory bowel diseases including Crohn's disease, ulcerative colitis, various microscopic colitides; biliary/pancreatic benign and malignant disorders, Barrett's esophagus with dysplasia and early cancer plus these patients' need for various advanced GI endoscopic diagnostic/therapeutic modalities.
Education
Medical Degree

University of Ankara School of Medicine, Ankara, Turkey

Residency

University of Ankara School of Medicine, Ankara, Turkey

Fellowship

University of Ankara School of Medicine, Ankara, Turkey
Publications
Board Certifications
American Board of Internal Medicine
American Board of Internal Medicine – Gastroenterology