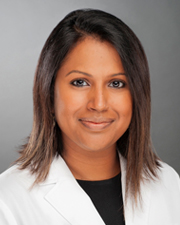 Associate Professor
Medical Director, Heart Failure ICU, Heart & Vascular Institute
Contact
Bindu Akkanti, MD
713-500-7955 Division
713-500-6829 fax
Center for Advanced Heart Failure
713-704-4300
Biography
Dr. Akkanti joined UTHealth in 2013 and currently an Associate Professor in the Department of Medicine. She is a graduate of the University of Texas Southwestern Medical School. She completed her internship in Internal Medicine at Baylor College of Medicine and pursued a residency at Boston University Medical Center. She completed her fellowship in Pulmonary and Critical Care Medicine at Baylor College of Medicine and was trained in the areas of critical care, lung cancer, asthma, COPD, pulmonary hypertension, cystic fibrosis, lung transplantation, and other advanced lung diseases while on rotations at Ben Taub General Hospital, The Methodist Hospital, St. Luke's Hospital, and the Michael E. DeBakey Veterans Affairs Medical Center. Dr. Akkanti later joined the Clinical Scientist Training Program and pursued bioinformatics based translational research in lung cancer under the guidance of Dr. Francesco DeMayo in the Department of Molecular and Cellular Biology at Baylor College of Medicine.
Clinical Medicine:
Dr. Akkanti is one of the core group of physicians that rounds in the Heart and Lung Transplant intensive care unit. In her time on this unit, she has contributed to the growth of the heart and lung transplant programs along with the mechanical circulatory support program. The program since its inception has done hundreds of heart transplants, left ventricular assist devices, percutaneous left ventricular assist devices, and ECMOs. She is part of the lung transplant service and assists in caring for these patients in the intensive care unit.
Dr. Akkanti is one of the pulmonary hypertension specialists at Memorial Hermann and UT Physicians. In this role, she cares for patients with pulmonary arterial hypertension, chronic thromboembolic pulmonary hypertension, and patients with multiple etiologies of pulmonary hypertension. She has a multi-disciplinary clinic with advanced heart failure clinicians on Tuesdays at the Hermann Plaza. The clinic phone number is 713-704-4300 for referrals.
Education:
Dr. Akkanti is part of UT McGovern Divisions of Pulmonary and Critical Care Medicine. In this role, she teaches fellows in her areas of expertise which include advanced heart and lung diseases, mechanical circulatory support, pulmonary hypertension, and pulmonary rehabilitation. She is also the site director for internal medicine, vascular surgery, and emergency medicine residents as they round on the heart and lung transplant intensive care unit.
Dr. Akkanti is the pulmonary module director for the first-year medical students and has been part of the curriculum change that happened across McGovern Medical School in 2014. She is also a McGovern Society Leader, a program that mentors students longitudinally over the course of the medical school.
She was chosen as a Master Educator and inducted into the Academy of Master Educators a prestigious society within McGovern Medical School.
Research:
Dr. Akkanti's main focus at this time in research is studying the implications of pulmonary hypertension and mechanical circulatory support on patient outcomes.
Additionally, she is the investigator or co-investigator for the following clinical trials:

Please see her publications here. https://pubmed.ncbi.nlm.nih.gov/?term=akkanti
Administration:
Dr. Akkanti is the director of critical care for Heart and Vascular Institute and the current medical director for Heart and Lung Transplant Intensive Care Unit. She is also the founder of the Pulmonary Rehabilitation program in the Wellness Center at Memorial Hermann – TMC.  She has completed the clinical safety and effectiveness certificate program through UT McGovern/Memorial Hermann. She has also completed her board certification in Quality (CMQ).
Personal:
Dr. Akkanti is married to Dr. Garg, an Associate Professor in Radiology at M.D. Anderson Cancer Research Center. She enjoys traveling, dancing and photography.
Education
Medical Degree

UT Southwestern Medical Center, Dallas, TX

Residency

Boston University Medical Center

Fellowship

Baylor College of Medicine, Houston, TX
Areas of Interest
Clinical Interests
Advanced lung diseases
Interstitial lung disease
Asthma
Pulmonary vascular diseases
Preoperative lung transplant evaluation
Postoperative lung transplant care
Pulmonary rehabilitation (including multidisciplinary supervised rehab)
Publications
Board Certifications
American Board of Internal Medicine – Internal Medicine
American Board of Internal Medicine – Pulmonary Disease
American Board of Internal Medicine – Critical Care Medicine
American Society of Quality – Certified Manager of Quality